Saturday, June 30, 2012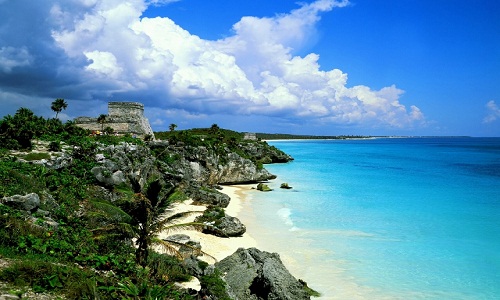 This coastline makes sense for an investment or lifestyle play

Dear Reader,
I recently met some of your fellow readers who had purchased in the Tao community on Mexico's Riviera Maya. I asked them why they had chosen Tao as the location for their second home. Their answers were remarkably similar.
First, they fell in love with the Riviera Maya's white powder sands and the bright turquoise sea...
They also loved the modern, stylish design of Tao homes and the classic resort setting. But this wasn't just a lifestyle love affair.
These buyers had done their homework. They figured that Tao wasn't simply an unbeatable second home destination. It also offers strong investment potential. That's the main reason Tao made it to their second home shortlist.
Read on below to find out why you should put Tao on your shortlist, too.
Location, location, location. This location is a winner. It's quick and easy to get to - just over an hour from the international airport at Cancun. Cancun is a short flight from many U.S. cities (one hour and 45 minutes from Miami, two hours 15 minutes from Houston, and four hours 20 minutes from New York).With so many major airlines flying here, and budget groups like Spirit, JetBlue and LACSA, you can take advantage of low-cost fares to visit friends and family back home - or they can come visit you. And it's not just friends and family. This place is a tourist hot spot, too.
A tourist hot spot. Hotel occupancy rates averaged 73% on the Riviera Maya last year. For the first 19 weeks of 2012, occupancy rates increased by 7%. The tourists come from North America, Europe, Brazil, Russia and Japan. That means a wide market of potential renters, spread throughout the year, if you want to rent your home here. Better yet, the Riviera Maya attracts well-heeled travelers. They want yoga on the beach and pampering spa treatments. They're a perfect fit for the Tao community. Finally, the Mexican government aims to triple tourist numbers to this region. That's a big plus if you'd like your Tao home to help cover its costs with rental income.
Infrastructure. It's grade-A in this location, with excellent highways, good telecommunications systems, modern hospitals and clinics. You'll also find big-box stores and supermarkets. Government plans also call for an international airport in Tulum.
Warm, sunny weather all year. You can wave goodbye to freezing winters, ice and snow, and say hello to the beach with balmy temperatures that average 25C (77F) all year.
Caribbean beaches. This part of Mexico is home to stunning Caribbean beaches. They're picture-perfect. Limestone crags and giant boulders overlook crescents and ribbons of white powder-sand. The sea is so clear you can see the barrier reef deep beneath you, packed with marine life and jewel-like corals. And you won't see high rises or condo towers on the beaches around Tulum, just rustic-chic restaurants and cafes. It's truly a beach paradise.
Amenities on your doorstep. In this setting, you can swim, dive, snorkel, sail, or sunbathe - and a whole lot more. You can explore vast nature reserves; discover ancient history in Mayan temples and pyramids; play a round of golf on championship courses; try an eclectic mix of restaurants, cafes, shopping and nightlife...and sample music, arts, film and food festivals. Plus, the Tao community gives you the chance to learn salsa or Spanish, take part in cooking classes or guest lectures, work out in the gym or relax at the spa. You'll enjoy a superb quality of life...
It's affordable. You can buy a luxury condo in Tao from $182,000. And you can spread the cost, with developer financing...
Easy developer financing - no credit checks, no paperwork, no bank slips - makes owning in Tao even more affordable with monthly payments from as little as $999.
It's got excellent appreciation potential. This is a place that's attracting more tourists and second home buyers. But it's also a place that wants to preserve its natural beauty with the help of tight permitting regulations. The Caribbean Sea on one side and national parks and reserves covering more than 2.5 million acres on the other means a limited amount of land for future development. That's good news for today's property investors.
You can take a test-drive for only $180. That gets you a three-night, four-day stay in a five-star resort. You'll check out the Tao community - including recently-finished town homes and the new Tao Wellness center. You'll see the sights - the exquisite beaches, the little beach towns and the nature reserves close by. You'll relax, sip cocktails under the stars, and really get a feel for this special location. And you'll understand why becoming part of the Tao community makes sense - on so many different levels. The next Tao chill weekend runs August 9th-12th, 2012. You can find out more here.
Margaret Summerfield
P.S. With space on the chill weekend strictly limited to 20, you'll need to act fast. Contact the Tao team here to get a full information pack and lock down your spot.
---
---
You might also be interested in:
A Short Video that's a Life-Changer
---
Posted Under:
appreciation potential, developer financing, caribbean
---
Sign up here for your free Pathfinder Alert e-letter, and we'll send you our $50,000 Report...showcasing seven real estate opportunities for $50,000.
We value your privacy.