Sunday, November 20, 2011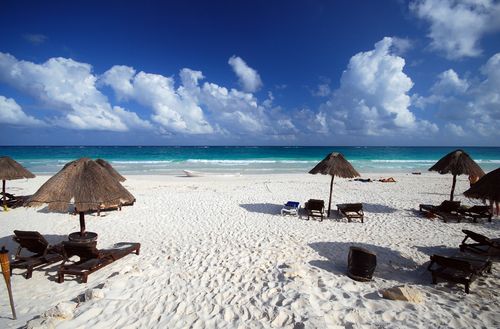 You might not need 10 reasons to convince you to spend time here...
Dear Reader,
You stroll down the powder sand beach towards the turquoise sea. It's time for a dip in the crystal-clear water, before heading back to your lounger in the shade of a lofty palm tree. Sunlight sparkles on the gentle waves and a soft breeze stirs the tropical afternoon. You never want to leave...
This place is more than a postcard-perfect destination. It's a hot investment story, too. Many of your fellow readers have already cottoned on to its potential, and snapped up homes here. And you can, too. More on that shortly.
But first, here's why you should consider Tulum:
It's close to North America. Tulum's a 90-minute drive from Cancun's international airport. And Cancun is a short flight from many U.S. cities (one hour and 45 minutes from Miami, two hours 15 minutes from Houston, and four hours 20 minutes from New York).With so many major airlines flying here, and budget groups like Spirit, JetBlue and LACSA, you can take advantage of low-cost fares to visit friends and family back home...or they can come visit you.
It's got great infrastructure. The drive from Cancun to Tulum is on an excellent highway. On the way, you'll see the new Playa del Carmen bypass, which opened in May, cutting the drive time and making the journey smoother and more comfortable. It's not just roads. Telecommunications systems are reliable, too. There are modern hospitals and clinics, big-box stores and supermarkets, close by in Playa del Carmen. Government plans also call for an international airport in Tulum.
The climate is warm and sunny year-round. The mean annual temperature is 24-25 °C (75-77 °F). You can wave goodbye to freezing winters, ice and snow...
It's stunningly beautiful. A necklace of powder-sand beaches studs this coast. Limestone crags and giant boulders lead from the white sand to emerald-green tropical forest. The sea is so clear you can see the barrier reef deep beneath you, packed with marine life and jewel-like corals.
You'll enjoy a superb quality of life. Tulum's calm pace of life focuses on yoga sessions at sunrise, relaxing spa treatments, and feeling at peace with yourself and with nature. You'll unwind here, escape the stresses of daily life and recharge your batteries. And you won't spend all day wondering what to do with your time because...
Tulum boasts an unbeatable mix of culture and amenities. The gorgeous natural setting begs you to snorkel, swim, sail, dive, or sunbathe on the gorgeous beaches...explore vast nature reserves like the Sian Ka'an biosphere...discover ancient history in Mayan temples and pyramids...play a round of golf on championship courses...and sample an eclectic mix of restaurants, cafes, shopping and nightlife. Both Tulum and nearby Playa del Carmen host music, arts, film and food festivals.
Tulum Beach is the best beach in Mexico. It's so good, it makes my top 5 (and I've seen a lot of beaches). It's so beautiful you'll find yourself gazing at it, slack-jawed, every time you visit. It's so perfect you'll hardly believe it's real. Perfect, cool, white powder sand that squeaks slightly underfoot. Perfect turquoise Caribbean Sea. Perfect blue sky, and perfect green coconut palms. No high rises or condo towers, just chic but rustic restaurants and cafes. It's truly a beach paradise.
You can afford to own a home here. Surprisingly, given all the pluses of the area, you can still buy a home from $167,000. That gets you a luxury condo in a five-star resort, 20 minutes from Tulum. Developer financing gets you in with monthly payments from $950.
Tulum can't sprawl along the coast. If you're worried that Tulum will become another Cancun, the good news is that future development is limited. Tight permitting regulations restrict height and density. National parks and reserves (such as the Sian Ka'an biosphere) cover more than 2.5 million acres of land. This places a constraint on future development. That's good news for property investors.
You can check out this hot spot for $180. That gets you a three-night, four-day stay in a five-star resort, where you'll check out those condos from $950 a month, along with town homes and residences. Plus, you'll see the sights...including Tulum's exquisite beaches...and enjoy cocktails under the stars, in the company of a small group of fellow readers. With space on the trips strictly limited to 20, click here to find out more and book your spot. The next trip runs January 26th-29th, 2012.
Margaret Summerfield
---
---
You might also be interested in:
Four Ways to Buy Your Overseas Home
Spend Four Days in the Caribbean for $180
---
Posted Under:
mexico, chill weekends, developer financing, beach, caribbean, luxury
---
Sign up here for your free Pathfinder Alert e-letter, and we'll send you our $50,000 Report...showcasing seven real estate opportunities for $50,000.
We value your privacy.