Friday, October 26, 2012
Dear Reader,
Our driver looked me up and down and tried one last time. "You want to go there to look at property? Nobody will want to buy there. The roads are too bad. I can show you properties that are easier to get to. I can take you to some great spots for wildlife. But please, let's not go to the Southern Zone."
This was Costa Rica six years ago. I'd heard about a gorgeous location on the south Pacific coast that was ripe with potential and seriously undervalued. Of course, I wanted to go. Our driver wasn't so keen.
Two hours in, I understood why. We were crawling around giant potholes, picking our way over deep ruts and swerving to avoid other cars that loomed out of the dust cloud we threw up. I'd started to regret my stubborn decision to drive here. Our driver muttered under his breath about crazy foreigners that wouldn't listen. My back ached. I kept checking the map – hoping we'd covered more ground and wondering how much longer this journey would take.
It took eight hours. As I waved goodbye to our disgusted driver who faced the same trip in reverse, I made a decision. I'd fly back in one of the tiny planes from the little local airstrip. It would take 30 minutes. I just couldn't stomach the thought of another grueling eight-hour marathon.
But I loved the Southern Zone. It felt wild, untamed, unspoiled; the last frontier in Costa Rica. Emerald-green mountains soar up sharply from a sandy coastline. Lush forest cloaks the mountain slopes. Little wispy rings of cloud crown the peaks. I'd already seen toucans, parrots, monkeys and coatis while I breakfasted on the terrace of my boutique hotel.
My plans for the day included a picnic lunch on the beach. I'd picked up good cheese and crusty bread from the local deli and bakery. Locals told me to try out the coffee shop, the French restaurant, the produce market, the smokehouse chicken and the little pizzeria.
It's all on a small scale that blends into the dramatic landscape rather than overwhelming it. You won't find giant supermarkets, fast food joints or multiplex cinemas in this location. It's much more low-key than that.
Thankfully, the Southern Zone is a lot easier to get to these days. I'm now happy to take the drive option. So is our driver. It only takes three hours from San Jose, Costa Rica's capital, on a smooth new road. One stretch that took us almost two hours on my first trip now takes 20-25 minutes. That's what I call progress: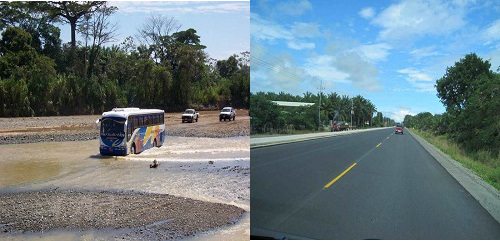 More tourists and property buyers now come to the Southern Zone. And the government would like to open it up even more. They want to build an airport in the Southern Zone that would start as a domestic airport and expand to take international flights. They're currently studying environmental reports to see if they can do that without harming the area's stunning beauty.
There aren't many residential communities in the Southern Zone. One that has stayed the course is Pacific Lots. It began in 1989 when a tourist braved the rough roads, fell in love with this green wonderland and bought a farm. She sold most of it to her friends and family who wanted a piece of it. She saw a business opportunity. She bought more land. The rest, as they say, is history.
Today, the community spreads out over 14,000 acres. Some owners are sitting on their land as an investment. More than 200 owners have built a custom house. That was the only option in Pacific Lots if you wanted to live there now – to buy a home site and then build a custom home from $100 a square foot.
But now there's a turnkey option. It's easy, quick and affordable, too.
This newly-released phase of 80 home sites with a swimming pool and social area is a breeze. You buy the lot and pick a house from the three models on offer. They're all two-bedroom, two-bathroom with granite counters and hardwood cabinetry. The developer can build your home in six months.
Pricing starts from only $140,000 for the lot plus house package.
I expect these units to sell quickly. This is the lowest-cost turnkey option at Pacific Lots. This special launch pricing only applies through December 31, 2012.
You can get a full information package here.
Margaret Summerfield
---
---
You might also be interested in:
---
Posted Under:
---