Wednesday, January 20, 2010
Dear Reader,
I know a way you can get a taste of a new life overseas while someone else picks up the tab. Well, at least some of it.
A chill weekend is your chance to enjoy a short vacation in exchange for allowing a developer the opportunity to showcase a property or development he is promoting. Our developer partners offer these weekends at a substantial discount. They believe in their projects—and will invest upfront to showcase what they have to offer.
Go ahead…pick a destination. Check out the property options…stroll around the local towns and villages…drink cocktails on the beach at sunset, and really get a feel for the place.
No strings, no pressure, no hard sell…just a chance to familiarize yourself with the ins and outs of buying a home overseas, and savor the culture, activities, and lifestyle of another country. The developers know that you are more likely to buy in a relaxed, comfortable atmosphere.
Sound too good to be true? Well, I asked my top developers to put their money where their mouth is and help cover some of the cost for you to visit their projects, and they jumped at the chance. What an opportunity! I'm talking about developers helping to cover some of the costs of your research trips across Central and South America.
These subsidized weekends are being offered by developers in Belize, Costa Rica, Mexico, Nicaragua, and Uruguay. You'll get valuable information on buying a property in that country, and you'll also be wined and dined so you can get a full preview of what your new life overseas could be like.
All you have to do is choose your destination and book your flight—and then kick back and relax.
Bring your partner (a chill weekend could be the perfect gift for you both). Sip a drink under the shade of palm trees, their fronds swaying in the gentle sea breeze…explore secluded inlets and sleepy fishing villages, or the forested foothills of towering mountains… watch the sun sink into the ocean at the end of another perfect day.
What are you waiting for? It could be a weekend that will change your life! Some of the upcoming chill weekends are highlighted below.
NOTE: Belize is an English-speaking country…a plus not to overlook…you'll be ready to chat with the locals the second you get off the plane!
February 26th-28th: Orchid Bay, in Belize, will host a three-day escape to their tropical paradise. All you have to do is book a return flight to Belize City and the guys from Orchid Bay will pick you up from the airport and provide all of your tour-related transportation, meals, and accommodation for just $299. That price includes a tour of Mayan ruins, and a Hawaiian-style pig roast on the beach. Lots start at $39,000, and beachfront casitas at $159,000. Get a full itinerary and information pack here.
NOTE: The first residents of Rancho Santana's new Seagate Condo moved in before Christmas. They extended their stay…because they didn't want to leave. Why not visit for yourself and find out why…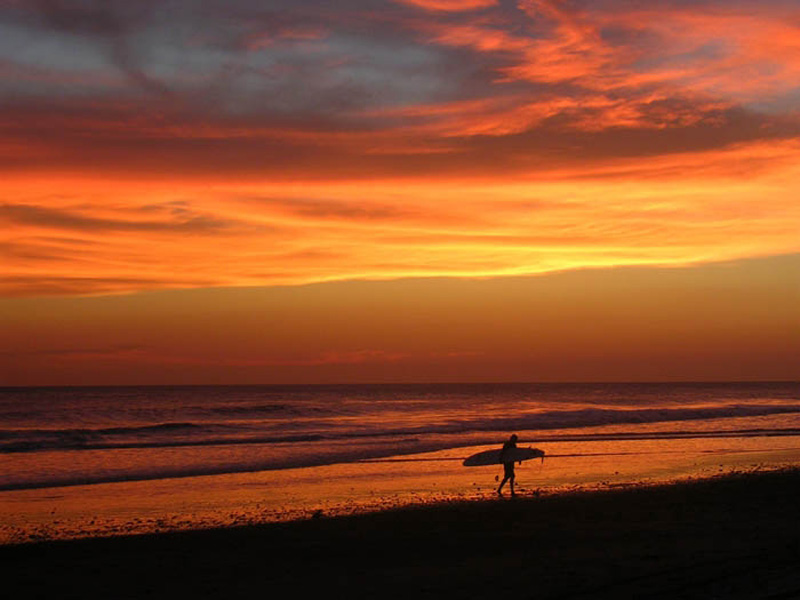 February 17th-21st, 2010: If you've ever fantasized about living in a tropical paradise, then why not make plans to join us on February 17th to 21st for a chill weekend at Rancho Santana. All you have to do is show up at Managua airport—and we'll take care of the rest.
You'll get a taste of colonial Granada, and have the chance to explore Rancho Santana…relaxing on one of the five sandy beaches…snorkeling, surfing, horseback riding…or simply swinging in a hammock rocked by cool Pacific breezes.
Better yet, you'll discover how you can cash in on an amazing undervalued Pacific Coast real estate opportunity—with home sites from $47,900. The trip costs $299 per person, and covers your accommodation, airport transfers, and meals.Book your Weekend in Paradise here
NOTE: Prices have stayed low in this area because it has been difficult to get to. That's changing. The new road is open and all but complete…
March 5th-8th, 2010: Costa Rica's Southern Zone
Dramatic landscapes, lush, green mountains, dense jungles, and one of Costa Rica's top beaches can be found in the Southern Zone. Prices here have stayed low for one reason. It's been difficult to get to. That's changing. A new international airport is on its way and the coastal highway is nearly complete. Yet, you can still buy a lot here in a quality high-end community for $40,000. Get a full itinerary and information pack here.
Ronan McMahon
---
---
You might also be interested in:
Chill in Costa Rica's Southern Zone
---
Posted Under:
costa rica, belize, nicaragua, mexico, chill weekends
---
Sign up here for your free Pathfinder Alert e-letter, and we'll send you our $50,000 Report...showcasing seven real estate opportunities for $50,000.
We value your privacy.