Sunday, July 22, 2012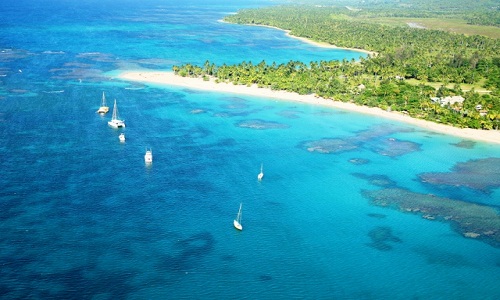 Island beach living at its finest
Dear Reader,
Are you looking for a Caribbean island hide away that's free from wall-to-wall high rise towers and screaming spring break crowds? A place that offers a tranquil beach lifestyle and property prices without the usual Caribbean island sticker shock? Well, we've found a place that fits the bill.
It's Las Terrenas, a small beach town on the Samana peninsula in the Dominican Republic.
This little gem offers a relaxed Caribbean island lifestyle and a slew of amenities at a price that won't break the bank.
It offers great real estate values and exciting potential when it comes to rental income. That's because it's overlooked.
And it's overlooked for one simple reason: it was really tough to get here. That's changed. But the mainstream hasn't figured that out yet. And until they do, we have a window of opportunity.
From Saddling up a Donkey to a Smooth Drive
Thirty years ago, getting to Las Terrenas required real determination - and a donkey. That was the only way to get across the steep mountain peaks around the town. It didn't stop some hardy French and Italian tourists who saddled up and forged ahead. But that difficult, limited access kept out mainstream tourists.
In 1985, a visitor noted that Las Terrenas had dirt streets, no electricity, no phone service and three basic hotels. But it had gorgeous beaches and plenty of charm. And it soon started to make up for lost time.
The town got electricity in 1994. Today, it's got phone service, satellite TV and internet cover. But one thing took much more time to change: getting to the town by road. It took five hours - or more - depending on the weather.
New road improvements in June 2009 cut the drive to Las Terrenas from the island's capital, Santo Domingo, to 2.5 hours. But the last part of the drive still wound its way up the steep hills around Las Terrenas on a patchy potholed road with no street lights or safety rails. On a clear sunny day, you'd enjoy the impressive views from the higher points of the road across Samana Bay. But it didn't make for a comfortable or easy drive.
Finally, a new coastal boulevard road opened in October 2011. It carves its way into the hills and cuts the drive time from Santo Domingo to Las Terrenas to less than two hours.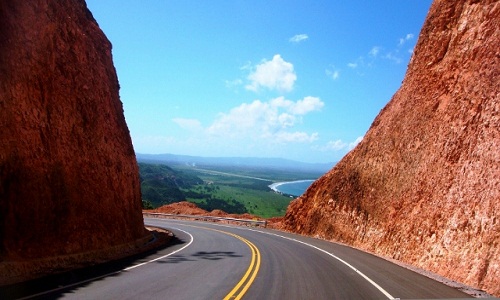 What a difference a new road makes
That new road also links Las Terrenas to El Catey international airport. The airport opened in November 2006. It's now 25 minutes from Las Terrenas. El Catey offers direct flights to Canada and Europe. Plus, from November 2012, JetBlue plans to offer direct flights from New York to El Catey.
Today, Las Terrenas is a breeze to get to. But as I mentioned, the mainstream doesn't realize it yet. And that means opportunity.
Dreamy Beach Life
I'm sure that anyone looking for a dreamy beach home will fall in love with Las Terrenas. This little beach town offers so much, starting with its dramatic landscape.
The Samana peninsula is show-stoppingly beautiful. Waves of mountains plummet down to white-sand beaches. Crystal-clear waterfalls sparkle in green forest settings. Coconut palms line mile after mile of unspoiled beach washed by bright blue waves.
Samana boasts some of the best beaches in the Caribbean. Some are world-class, like this one: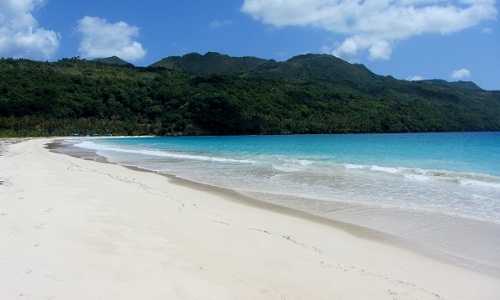 You can walk for miles on the beaches in and around Las Terrenas. With 19 miles of beach, it's tempting to keep on going to see the stunning vistas around the next corner. Some of the beaches are perfect for swimming, others for snorkeling and diving. In January each year mighty humpback whales visit this coast to breed.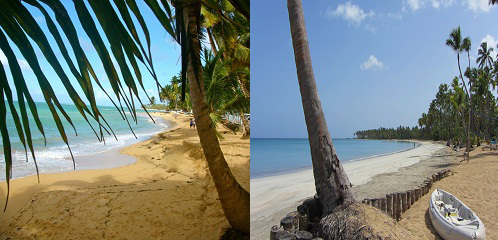 A couple of the beaches in and around Las Terrenas
Las Terrenas is the perfect spot for beach lovers. And the fact that it was so tough to get here for so long has a huge upside.
Low-Key Island Style with a Twist
The town escaped the over-development you see in other parts of the island, where all-inclusive hotels pack every inch of sand.
Las Terrenas developed more slowly in a low-key, low-density style in tune with its surroundings. And it's decided to stick to that path with tight planning restrictions. For example, buildings on the beach can't go any higher than the height of a coconut palm.
The hotels in Las Terrenas aren't international chains with thousands of rooms. Apart from a couple of bigger hotels outside town, most hotels are small with a limited number of rooms and amenities. Many tourists who come here on vacation prefer to rent an apartment or house when they stay in Las Terrenas. So visitors in Las Terrenas use local businesses -the restaurants, cafes, supermarkets and stores. It's a sharp contrast to other locations on the island where tourists stay in their all-inclusive resort, only venturing out on a day trip or two.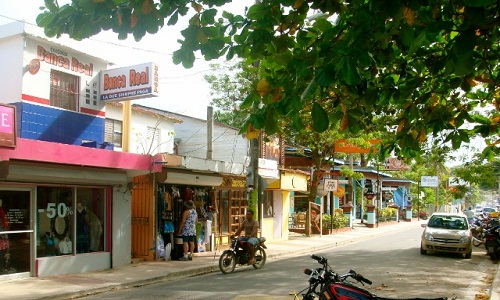 It's small but packed with nice stores, restaurants and cafes: Las Terrenas
Las Terrenas is a thriving town. And it's got some surprising stores you wouldn't expect in an average Caribbean beach town.
The supermarkets offer local staples alongside champagne, French cheese, Italian sausage and Chilean wine. There's a Turkish steam bath where you can relax and enjoy a massage. You'll find spas, a gym, and beauty parlors.
As a tourist town you'd expect to come across souvenir stores, little galleries and even a cigar store. But you'll also see stores selling natural soaps and skin care products, expensive purses and designer clothes. This unexpected variety shows most clearly in the town's restaurants and cafes.
You can eat Dominican food - or Greek, French, Italian, or Peruvian. If you want a burger and beer, a wood-fired pizza, fresh grilled seafood and exotic cocktails, lobster ravioli, escargots in butter or anything in between, you'll find it in Las Terrenas. It's the best place for dining options in the Dominican Republic.
The multicultural food reflects the town's multicultural population. Around a third of the town's residents come from Europe, mostly from France and Italy. They visited the town in its early days, liked what they found, and decided to set up home - and business - here.
So this is one island beach town where you can buy a strong espresso from a little café, flaky croissants and crusty bread from a French bakery, or a deliciously cooling gelato from the Italian ice cream store.
Sleepy Charm - and Strong Rental Income
Las Terrenas is still a Dominican beach town at heart with a slow sleepy charm. And that charm (combined with the town's gorgeous setting) has always attracted tourists and second home buyers.
With the new road, the town is finally easy to get to. It's opening up. It's much easier for wealthy Dominicans to visit from Santo Domingo for the weekend or longer vacations. And we're seeing more North Americans visiting and buying second homes here.
And many of those second home buyers are discovering that Las Terrenas holds another couple of surprises.
First, buying a vacation home is far more affordable than in most other Caribbean island locations. And second, their vacation home can earn a handsome profit if they rent it out when they're not using it themselves.
In fact, it's possible to generate double-digit rental yields. That's due to a lack of competition from big chain hotels, a shortage of hotel rooms in town and the type of visitor the town attracts. Las Terrenas appeals to independent travelers and well-heeled Dominican families who prefer the privacy of a rented apartment or villa to staying in a hotel.
Let's take a look at some properties on the market in Las Terrenas today:
A two-bed one-bath condo with a spacious terrace in a complex with two swimming pools. It's fully furnished and priced at $129,000
A two-bed condo with a rooftop terrace beside a beautiful beach. It's close to shopping, restaurants and cafes. It's fully furnished and the asking price is $179,000
A three-bed house with a pool in a small community next to a stunning beach for $290,000
Two-bed two-bath luxury beach condos with ocean views from $334,000. The condos are in a gorgeous setting alongside a pretty soft-sand bay and close to restaurants and cafes
A four-bed four-bath home with a pool for $435,000. The home earned $20,600 over 27 weeks last year in rental income (that's $20,600 after deducting all the expenses, running costs and overhead)
Las Terrenas is a desirable location. It's a place where you can enjoy laid-back Caribbean island living - and where your overseas bolt hole can make a nice profit if you decide to rent it out. If you can bear to tear yourself away, that is...
But you need to experience Las Terrenas for yourself to decide if it's the right place for you. And the easiest way to do that is on a Las Terrenas chill weekend.
The chill weekend is your chance to sample the Las Terrenas lifestyle, try it on for size, and see if it fits. You'll check out the stores and amenities in town, try some of the local eateries, and (of course) spend time on the gorgeous beaches.
Plus, you'll discover just how far your real estate dollar will go in Las Terrenas. Local real estate agent Toni Green will send you some sample listings, chat with you to find out what you're looking for, and arrange a custom property viewing itinerary to suit you.
You'll only see the type of property you're interested in at a pace that suits you. Caribbean island pace, if that's what you want, with plenty of time to relax and soak up the atmosphere.
Toni will help you with hotels and transfers too. You can contact her here.
Your dream Caribbean island home is waiting for you. Contact Toni here today to start planning your trip.
Margaret Summerfield
---
---
You might also be interested in:
A Caribbean Island House for $220,000
Amazing Beaches, Great Food, and Friendly Charm
---
Posted Under:
chill weekends, beach, caribbean island
---
Sign up here for your free Pathfinder Alert e-letter, and we'll send you our $50,000 Report...showcasing seven real estate opportunities for $50,000.
We value your privacy.