Saturday, June 11, 2011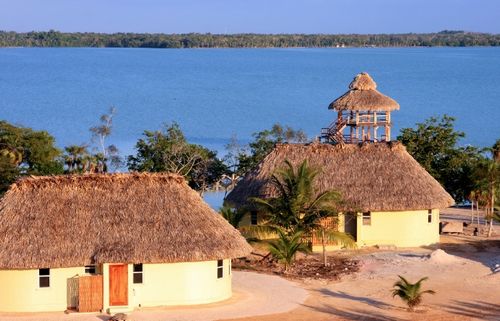 The beachfront casitas at Orchid Bay
Orchid Bay developer Ari Kahn is a man in demand. I haven't seen much of him since the start of this year. February saw the birth of his second son. But Ari hasn't just been busy with the new addition to his family. He's also been pushing Orchid Bay forward. In fact, Orchid Bay has moved in leaps and bounds since I last sat down and spoke with Ari.
I asked Ari a few days ago if he had any updates for me. I was expecting a couple of snippets of news, but what I got back was an excited e-mail from Ari, telling me had tons of activity to report. He was right.
Five years back, Orchid Bay was a vision...a master plan and a dream to create a quiet community where neighbors could get together and socialize...with walkable streets, and plenty of green space. The first years in a development are never pretty. Putting in the infrastructure takes a long time...costs a significant sum of money...and doesn't look like much to prospective buyers. All they can see is churned earth, and an empty site. But once the basics are done, a development can really take off. Orchid Bay is at this stage. They have moved beyond the dream and early development stages, to becoming a fully-fledged community.
Five years ago, machinery had just started the heavy work of clearing parts of the site to cut in roads. Today, the main road in the development is complete, and work has started on the side roads. Underground utilities are also in place.
The beachfront casitas, 24 little lock'n'leave homes anchored by the beach bar and restaurant, are complete. The first residents are already living in their homes (including Orchid Bay's youngest resident, six-year-old Alexandra, who lives here full-time with her mother). The beach bar and the Black Orchid restaurant are up and running...so residents can chill out over a Belikin beer, or try out some of the tasty dishes on the restaurant menu (including fresh seafood and jerk chicken).
The Central Bank of Belize chose Orchid Bay as the location for their annual party last month, with 250 employees, and their families. The group stayed in the beachfront casitas, had fun in the sea and on the beach, and (of course) enjoyed the hospitality of the Black Orchid restaurant.
A new construction company, TA Builders, is now building spec homes at Orchid Bay. This will really help buyers see and feel the design, layout and finishings of model homes. The first house is two-bed, two-bath, 1384 square feet, on a quarter-acre lot, which comes in at $250,000 total (that price includes the lot). The home is due for completion at the end of the summer.
The first beach in Orchid Bay is finished, and the second one is under construction. The community's waterfront location makes it the perfect place for those who enjoy watersports (and Orchid Bay has a pier, if you are a boating enthusiast).
A team of Mennonites (they have a community close to Orchid Bay) is relocating a traditional wood cabin to Orchid Bay. After a re-design and upgrade this will become the community's clinic, run by Dr. Joe Myslinski. The Mennonite community also provides fresh fruit and veggies, and bread, for Orchid Bay.
And although Orchid Bay is only a 90 minute drive from Belize City and the international airport, they plan on having their own private airstrip. This isn't just for the millionaire jet set. Small airlines in Belize have a flag stop policy. If they have two paying passengers on a flight between Ambergris Caye and Corozal (the closest town to Orchid Bay) who want to land at Orchid Bay...you got it. The pilot will land for you. If you're traveling alone, you can pay for 2 tickets (the flight from Ambergris to Corozal costs just $42).
Better yet, if you are traveling direct from Belize City, you can charter a four-seat private plane for $350. If you are a party of eight...an eight-seat plane will set you back $600. Ari expects to have permits for the airstrip in place by the end of this year and to deliver the airstrip by the end of next year.
Despite achieving all these milestones, Orchid Bay remains very affordable. You can buy a lot in the community from $44,000. And Ari is offering interest-free financing. Pay $11,000 down on that $44,000 lot and you can make monthly payments of $687.50 per month for 48 months. There are only six lots available with the financing, though. So if you want to be a part of this unique community in Belize, you need to act fast. Contact Ari here today to find out more.
Margaret Summerfield
---
---
You might also be interested in:
---
Posted Under:
---
Sign up here for your free Pathfinder Alert e-letter, and we'll send you our $50,000 Report...showcasing seven real estate opportunities for $50,000.
We value your privacy.