Sunday, September 16, 2012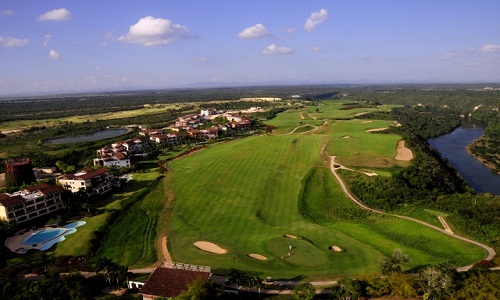 The list of amenities on offer here is endless...
Dear Reader,
My driver took a wrong turn on the way to the hotel reception. We ended up at a gas station. That was the first hint as to the size of this place. You see, the gas station is inside this private community. And you'll probably need it.
We finally found the main lobby and I checked in. I got the key to my room. I also got a key to a golf cart. I hadn't asked for one. I don't play golf and I quite enjoy walking. But it turns out that there's a golf cart allocated to every room in the resort. And, as the helpful receptionist explained, you need it.
You need it because this place is massive. It covers 15,000 acres. It's a little private kingdom. The golf cart keys are the start of the adventure...
This is Casa de Campo in the Dominican Republic. I've never seen anything like it. It's not just the scale of the resort. It's a masterpiece - the ultimate location for pampered living.
A Private Retreat
Casa de Campo started in the 1970s as an exclusive retreat created by Charles Bluhdorn, the founder of Gulf & Western and president of Paramount Pictures. He invited friends to join him - fashion designers, movie stars and directors and business moguls. He built two golf courses, an artists' village and even a replica of a 16th-century Italian village.
After Bluhdorn's death in 1983 the Fanjul family bought the resort and opened it up to paying guests.
Casa de Campo began as one man's private passion - a personal playground to share with family and friends. As a business proposal it wouldn't have made sense to bankers, investors or hoteliers at the time. But it wasn't built with a financial return in mind.
Today, it's an elite hideaway for those seeking privacy, security and superstar pampering.
But it's not a remote hideaway. It's a 90-minute drive from the airport in Santo Domingo. You can fly into La Romana airport which is less than 10 minutes from Casa de Campo's hotel reception. Or there's the heliport if you've got your own helicopter.
If you prefer to travel by boat, you can dock at the 400-slip marina. Mega yachts and sleek powerful boats fan out from the marina's Italian-style square. You'll find little cafes, restaurants, boutique stores and a well-stocked grocery store at the marina.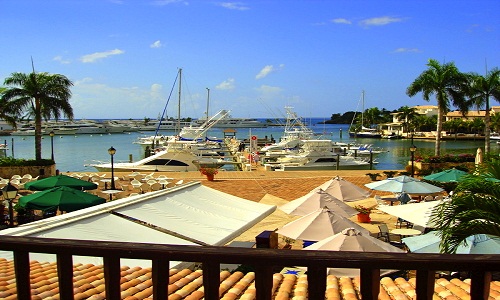 The marina village is a nice spot for lunch
The marina village is modeled on Portofino, Italy. And Italy was the inspiration for one of the most ambitious elements of Casa de Campo: Altos de Chavon.
Altos is a replica of a 16th-century Mediterranean village set high above the Chavon River. Local artisans handcrafted cobblestone pathways, immense wooden doors and wrought iron details to get it looking just right. It's a pretty convincing replica, complete with a little church.
It's a charming spot. You can dine in one of the restaurants and bars, browse the designer stores or the artifacts on display in the museum. In the evenings, the 5,000-seat amphitheater in Altos hosts concerts.
And we're only getting started on the amenities...
If you're a golfer, you can choose from five courses - including the legendary Teeth of the Dog course by Pete Dye.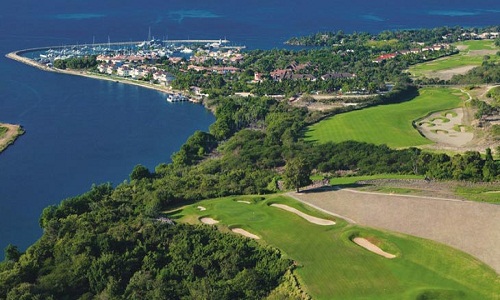 It's a golfer's paradise...a boater's paradise...
There are tennis courts...a shooting range...a country club, gym and spa...swimming pools...an equestrian center and polo fields...20 restaurants, bars and cafes...a beach club with impeccable service and a beautiful curve of white sand beach.
A Unique Location
As I'm sure you can imagine this place doesn't come cheap. It's well-established, super-convenient and super-luxurious. Mansions dot the manicured grounds. Low-rise condo buildings gaze across the calm waters of the marina or the green oasis of a golf course.
It's expensive to rent here and expensive to buy here. But this place is unique. I can't think of anywhere else you get such a beautiful setting, top-quality infrastructure and gold-star amenities on your doorstep. The price tags are certainly high - but it feels like you're getting your money's worth. You're getting the best. And you don't have to wait for it - it's already there.
So what does it cost to own here?
New is king here. Buyers prefer new properties with modern layouts and modern style. Some of the older houses date back 20-30 years. They're well-located, well-built and spacious with landscaped yards and swimming pools. But they often need some updating to the finishes and feel a little darker than more modern homes in the resort. But they're priced lower than those more modern homes. You could buy one, do some remodeling to your own taste and still pay less than the going rate for a newer house.
Older villas start from $640,000. That gets you 3400 square feet of living space, four bedrooms, three bathrooms and a Jacuzzi.
You can choose from golf condos or marina condos. I saw a 2600-square-foot marina condo with sea views from the top terrace listed at $590,000.
A penthouse condo with gorgeous views overlooking the Dye Fore golf course offered owner financing. With almost 3500 square feet and new furniture it could rent for up to $600 a night in high season which would help with running costs. The asking price was $799,000: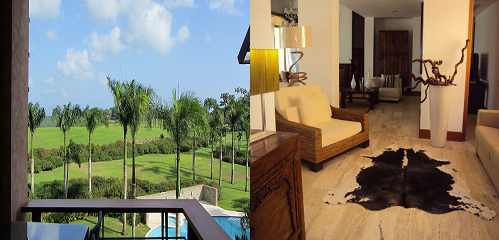 I viewed a house with a $12 million price tag, marble floors, more than 40,000 square feet of living space and impressive views of the sea, the marina and the Chavon River. For $13.5 million you get an oceanfront home with a beautiful pool: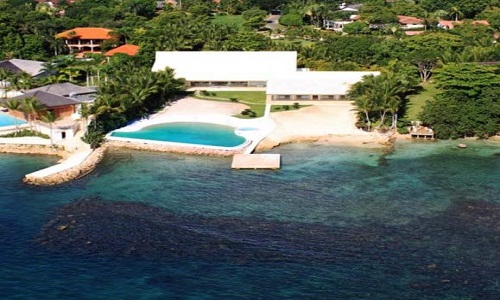 I loved a Bali-style villa with five bedrooms and seven bathrooms, a pool and a Jacuzzi for $1.9 million. It was beautifully designed with high ceilings and lots of natural stone and hardwood finishes: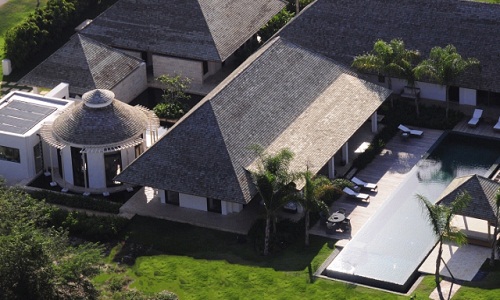 Home sites start from $200 per square meter. Lots are large so you're looking at paying at least $400,000 for a lot. Construction costs run around $110 a square foot. But building your own house means you get your perfect dream home.
Try The Casa de Campo Lifestyle
Words don't really do justice to Casa de Campo. It's unique. I've scouted all over Latin America for property and I've never seen anything that comes close.
You need to see this place for yourself to appreciate just how special it is.
So, if you're interested in property in Casa de Campo, simply contact Maria Taylor here. She'll chat with you to find out what you're looking for and then send you some sample listings.
You'll pick the ones you like and then Maria will arrange a custom tour for you. You'll see what you want to see, when you want to see it, at your own pace. No hurry or pressure or stress...
Maria can also help you arrange your hotel reservation at the resort and airport transfers.
You should plan to stay at least three days to really get a feel for this resort. With 15,000 acres, it takes quite a while to see even a small part of it.
You should also build in plenty of time to kick back and enjoy the Casa de Campo lifestyle. That's what this place is all about. Play a round of golf...relax on the beach...hang out and watch the beautiful boats and the beautiful people at the marina.
You can contact Maria here to find out more.
Margaret Summerfield
P.S. As I said, Casa de Campo isn't cheap. But if you're looking for a luxury Caribbean hideaway it fits the bill. It's a golfer's paradise...a boater's paradise...and a beach paradise all rolled into one. Find out more here.
---
---
Posted Under:
beach, caribbean, luxury, golf, marina
---
Sign up here for your free Pathfinder Alert e-letter, and we'll send you our $50,000 Report...showcasing seven real estate opportunities for $50,000.
We value your privacy.