Saturday, April 21, 2012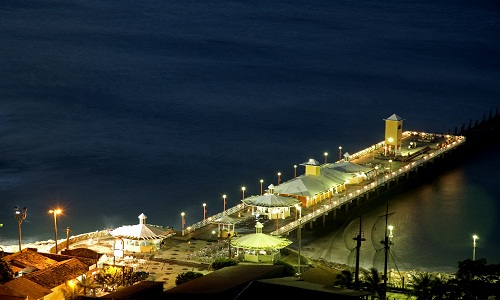 You can profit in this up-and-coming location
Dear Reader,
Yesterday I told you how strong Brazil's economy is. There's always opportunity somewhere. Even if it feels sluggish where you are: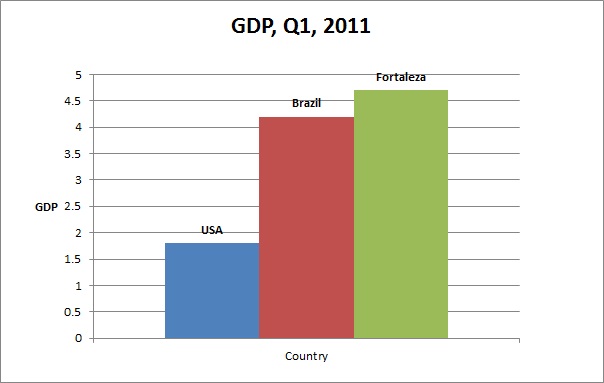 This is the type of anomaly we can profit from. Now.
I love visiting Fortaleza. It's buzzing with commerce and progress. And it's beautiful. There are hundreds of miles of white sand beaches. Little fishing villages and kite surfing outposts dot the coast. This is a great place to vacation. More than three million people thought so last year. They come mostly from the industrial and commercial centers in southern Brazil.
But this isn't just a domestic tourist hot spot. Today, it's ALSO emerging as a major commercial and export hub while still maintaining its premier beach destination status.
Around $6 billion is being invested in tourism and infrastructure in Fortaleza in the run-up to the World Cup. Its strategic location close to Europe and the U.S. makes it a logistics hub. And, with the help of a tax-free zone nearby, it's becoming the perfect place for export-focused manufacturers to locate.
There's oil offshore. A massive port expansion is underway. More small businesses are opening by the day. Major corporations are setting up regional operations here. That means more executives are relocating here.
And they need somewhere to stay. But it's very difficult to find a quality rental.
The short- and long-term rental market in Fortaleza is strong. Fortaleza's boardwalk is where it's at. This is where you'll find the bigger hotels and luxury condos. But the boardwalk was recently extended to Iracema Beach. Iracema's dingy bars are being replaced by chic cafés and major tourist attractions like South America's biggest aquarium. This is part of the $6 billion being invested in tourism and infrastructure in Fortaleza in the lead up to soccer's World Cup which visits town in 2014.
But prices in Iracema are as little as half what you could pay minutes away in the "old" boardwalk. Rental and occupancy rates, however, are still strong in Iracema and are playing catch up with "old" boardwalk rates.
In Iracema you can rent to visiting executives, young professionals, retirees, or vacationers from Brazil or Europe. This is good if you own a rental property as you have a cushion if one market slows down.
The opportunity in Iracema is strong.
The Project
A major and reputable developer has just launched a new condo project called Piazza Coliseu on one of the best plots of land in Iracema. (Members of my Real Estate Trend Alert service got first pick of units in February pre-release, with special member pricing and terms.)
Surrounded by hotels and restaurants, Piazza Coliseu is located on the edge of the "old" boardwalk. You are only 100 meters from the beach and the water. Here, the beach is at its widest and backs onto a plaza. In your neighborhood are luxury condos, hotels and single family homes.
You look onto the Social Club Ideal, one of the oldest and most exclusive family clubs (like a country club) in Fortaleza. Members gather for all sorts of sports and socializing. Tennis...swimming...gym...weights...yoga. At night friends and neighbors gather to eat and hang out.
One block to your right is the wide beach which hosts the New Year's Party and volleyball world championships. From your balcony you will be able to watch the events, take in the boardwalk atmosphere and just sit back and watch the festival fireworks. This is the focal point for Fortaleza's sports, events, entertainment and festivals.
All balconies face east. This is important. The local market prefers to face east and get the morning sunshine and breezes from the ocean. All condos are three-bedroom, three-bath, 76 square-meter (817 square feet) units. Usually 72 square meters is the typical size for a two-bedroom condo. With these condos you get an extra third bedroom. This might seem like a small condo to have three bedrooms and bathrooms. But here, the third bedroom will command a premium when renting or reselling for the local market.
These condos will appeal greatly to the local long-term rental market.
The Price
Prices here start at 395,255 reals ($210,143). That's 5200 reals per square meter. Prices on the "old" boardwalk are up to 10,000 reals per square meter for ocean-view units. Renting long-term, I would expect that this condo would generate an annual rental income of 33,600 reals. That's an 8.5% yield.
Developer finance is available for up to 60 months.
My contact on the ground is Daniel Neves. He's standing by to send you a full information pack here.
Daniel also manages rentals in this area for fellow readers. He keeps them full! He told me recently that not one of the 40 condos he manages in this area is vacant.
Contact Daniel here for more details.
Ronan McMahon
P.S. As with any purchase, you should use your own independent attorney and make sure you understand what's in the contract you sign. I use Paulo Peixoto. You can reach Paulo here: .(JavaScript must be enabled to view this email address). Also, you should understand the terms of the developer finance, including the inflation adjustment that is standard in pre-construction contracts in Brazil.
---
---
You might also be interested in:
---
Posted Under:
---
Sign up here for your free Pathfinder Alert e-letter, and we'll send you our $50,000 Report...showcasing seven real estate opportunities for $50,000.
We value your privacy.