Friday, February 08, 2013
Dear Reader,
Real estate can set you back top dollar in Costa Rica. It is, after all, one of Latin America's top destinations for expats and second-home buyers. But in this quiet location, the views are amazing. And so are the real estate values.
I'm talking about Arenal, Costa Rica's lake country. It's gorgeously scenic – a landscape of forest-clad hills and mountains, pastureland and small farms, little villages and small communities scattered along the shores of a wide blue lake.
It reminds Europeans of Switzerland or Austria and North Americans of Lake Tahoe – without the crowds. It's a perfect outdoor playground, where you can sail, fish, kayak, wind-surf, horse-ride or hike. Stop at one of the little restaurants or cafes on the lakeshore road and you'll soon find yourself chatting to the friendly locals as you eat mouth-wateringly good food. If you like small-town life, you'll love spending time in Arenal.
Yet when it comes to real estate this place is still very affordable. That's because it's overlooked. Most tourists and property shoppers to Costa Rica head to better-known destinations on the Pacific coast and the Central Valley. They skip this hidden gem – because they don't know it's here.
That's why you could buy a home with incredible lake views for as little as $50 per square foot. You can see the house in the photo below, at the top left. Just look at its lakeside seat…and the stunning lake views: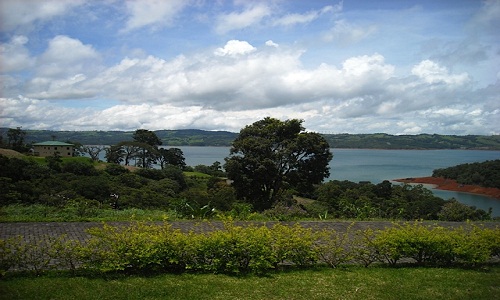 It's in a private community with a marina and boat storage. The community infrastructure is completed to a high standard with nicely paved streets and landscaped grounds.
The 4-bed 3.5-bath house covers 4,000 square feet. It's on a large lot and only a short walk down to the lake.
The owner is motivated. He wants to sell. He's already cut the asking price, he's open to offers, and it could be yours for as little as $200,000. That's only $50 per square foot.
In most countries on the Pathfinder beat, $50 per square foot wouldn't cover construction costs. And this house is brand-new, ready for the new owner to move in and make it their own.
Arenal is one of my favorite places to visit. It is, quite simply, stunning. Details of this house – and other opportunities I'll write about over the next few days – are available to members of the Real Estate Trend Alert group. (If you aren't part of this group yet, you can sign up here).
Margaret Summerfield
---
---
Posted Under:
costa rica, affordable property, real estate trend alert, lake property, real estate investing
---