Friday, December 30, 2011
Dear Reader,
I'm envious already. In today's free Christmas prize draw, three lucky readers will win a chill weekend for two on Mexico's Riviera Maya.
And I know what they'll get. Four days in a resort with luxury amenities…a gorgeous coral-sand beach, a golf course, swimming pools, spa, restaurants, and cafes.
Four days where they get to relax, eat and drink all they want, and sun themselves on tropical beaches.
Four days in an unbeatable Caribbean location - and the opportunity to explore a way to make this place a permanent vacation spot.
In fact, all the lucky winners have to do is get to Cancun. Then they're set for some serious R&R…
Sadly, the rules don't allow me to take part. But you can. Just click here -and you'll find out on January 6th if you're one of the winners.
Read more below on Mexico's Riviera Maya, and how you can buy a luxury condo from $995 a month.
Margaret Summerfield
Relax in Five-Star Luxury in the Caribbean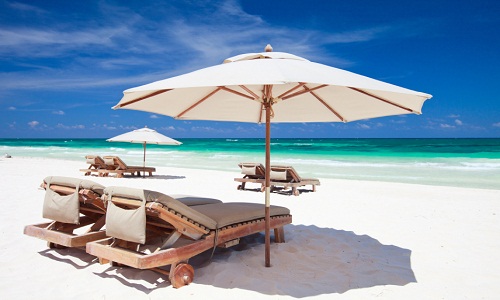 Dear Reader,
It looks like a Caribbean island escape. It has the cool coral sand, warm tropical sun and the matchless turquoise sea. But this Caribbean isn't a remote island. In fact, it isn't an island at all. It's close, easy to get to, and packed with amenities.
Best of all, it offers luxury five-star resort living from $182,000. And with developer financing, you could own here for as little as $995 a month…in a resort where vacationers next door pay up to $1155 a week to stay.
So where is this place?
It's Tulum, 80 miles south of Cancun and her international airport. But it's a world away from Cancun's crowded beaches and swarms of screaming spring breakers. Tulum is terribly chic. It's the kind of place where you can enjoy yoga retreats and soothing spa treatments. You can sip coffee in organic cafes. It's about chilling out on secluded beaches and snorkeling over the rainbow coral reef. It's about exploring Mayan temples, and watching baby sea turtles shuffle their way to the sea under a moonlit sky.
Close to Tulum, a five-star resort offers luxury living. Spread over 717 acres of tropical forest, the resort includes a long stretch of white-sand beach, three hotels and a 27-hole golf course. Within the landscaped grounds of the resort, you can dine at four restaurants, or enjoy a cool drink at one of nine different bars. There's a spa, gym, swimming pools, stores, and entertainment most nights.
On the golf course side of the resort, a new luxury community called Tao is springing up. It's in tune with the Tulum take on life. It focuses on healthy living and lifelong learning. Start your day with a swim in lap pools, learn how to cook Mexican food for lunch, and salsa the night away with your neighbors: it's all part of the Tao lifestyle.
Tao homes are sleek and modern. Their style echoes that of the luxury million-dollar homes scattered around the golf course. Yet pricing at Tao starts at only $182,000 for a condo.
And easy developer financing means you can spread your payments…paying as little as $995 a month to own here. And when we say "easy", we mean it. No medical exam or credit checks, no age limits, no mountain of paperwork to fill in.
If you'd like to see this special Caribbean location, you can enter the free prize draw here . Over three nights and four days, you'll relax at the resort…and explore the real estate possibilities at Tao…and soak up some rays on the sun-drenched beaches.
The trip will give you the chance to try on the Tao lifestyle for size and see if it fits.
And it won't cost you a cent if you win. Just get yourself to Cancun airport…and then set your watch to laid-back Caribbean time.
You can enter the free prize draw here.
Margaret Summerfield
---
---
You might also be interested in:
The Great Christmas Giveaway Starts Here
Win a Chill Weekend in Ecuador
See Costa Rica's Lake Country for Free
Scouting Ecuador's South Pacific on Someone Else's Dime
---
Posted Under:
chill weekends, caribbean, prize draw
---
Sign up here for your free Pathfinder Alert e-letter, and we'll send you our $50,000 Report...showcasing seven real estate opportunities for $50,000.
We value your privacy.