Sunday, August 14, 2011
Dear Reader,
We're writing about affordable property this week. Now, one country that you might not put into that affordable category is Brazil. But Brazil is a lot more affordable than you think.
Take the city of Fortaleza, on Brazil's north-east coast. True, it's not a dirt-cheap location. That's because Fortaleza is a bustling metropolis of three million people, with lots of amenities, and an international airport. It's the top vacation spot for Brazilians. It's home to some of the most beautiful beaches in Brazil. So Fortaleza's property prices aren't as low as those in a remote outpost that's impossible to get to, with only a coconut palm for amenities and a stray lizard for company.
But thanks to developer financing, where the purchase price spreads over monthly payments, you can still afford to buy property in Fortaleza. Just take a look at the three deals below.
Financing deal #1: Rental income straightaway…and monthly payments of $931.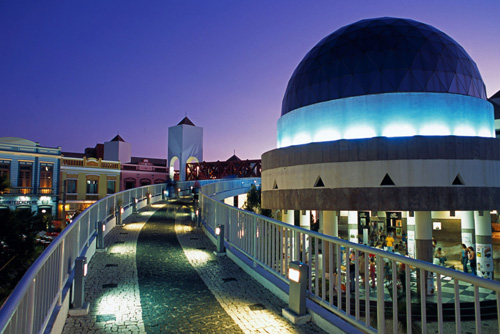 Iracema: Fortaleza's cultural and artistic quarter
I've written before about the Iracema neighborhood in Fortaleza. It's a personal favorite of mine. It has a young, fun, arty vibe, anchored by the city's cultural center, numerous art galleries and artist's studios. Groups gather in the evenings for shows and events…dinner at one of the many restaurants and cafes…or to party in the city's hippest nightclubs and bars.
Fortaleza's oceanfront boardwalk was extended to Iracema in April this year. The new boardwalk wraps around Iracema Beach, a popular spot for beach volleyball and a huge New Year's party, and ends at the site for a massive new aquarium.
Property prices in Iracema are lower than along the older section of the boardwalk (where they can reach more than $6000 a square meter). But with the new boardwalk…city plans to revitalize Iracema as Fortaleza's cultural and artistic heart…and the new aquarium…we expect prices to rise in Iracema.
For now, you can buy a condo with views of the beach, the ocean and the boardwalk, from 201,889 reals ($124,147). You pay 40% down, and monthly payments of 1514 reals ($931). But with the condo already completed, you can start earning rental income immediately. Rent it long-term to a young local professional, and you could earn 1600 reals ($982) a month. Click here for a full information package.
Financing deal #2: Lots from $2,286 a month….and appreciation potential.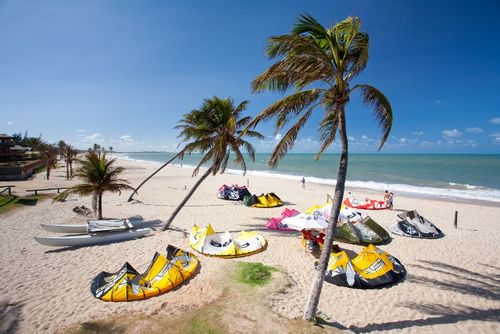 Cumbuco's beautiful breezy beaches attract kite surfers
The little community of Summerville is just thirty minutes west of Fortaleza, alongside a beautiful white sand beach. It's also close to Cumbuco, a small but chic beach village. Cumbuco boasts some nicely rustic beach bars and restaurants, boutique hotels and guesthouses and kite surfing schools. It's clean, charming, and fun…a great place to relax and unwind.
Cumbuco's latest addition, the Vila Gale 5-star resort hotel, offers luxury accommodation. It costs $350-$450 a night. The resort plans call for a golf course and residential condos. Major Spanish and Brazilian developers plan to build residential communities close to Vila Gale. This will push property prices in the Cumbuco area higher. To date, the village has attracted Scandinavian kite surfers. The new projects will bring more mainstream tourists and second home buyers.
Summerville sits between Cumbuco and the Vila Gale resort. Yet Summerville remains affordable. While beachfront land in Cumbuco can cost 600 reals ($368) a square meter, lots in Summerville start from only 220 reals ($135) per square meter.
You won't wait for amenities or infrastructure, either. Summerville's gated entrance, roads and utilities, swimming pool and tennis courts are already finished. A few minutes' walk gets you to the beach: a soft carpet of white sand, dotted with coconut palms.
Lots in Summerville cost 95,000 reals ($58,418). Pay just 9500 reals ($5842) down and 23 monthly payments of 3,717 reals ($2286)...and then the lot is yours. Only 20 lots remain. Contact Daniel here to get more details.
Financing deal #3: Luxury beach home where you pay 1% of the purchase price a month.

Aquiraz Riviera: Fortaleza's most exclusive beach resort
Thirty-five minutes east of Fortaleza you'll find a stretch of coast centered on a giant water park. Sprinkled with beach bars and restaurants, studded with luxury villas and vacation condos, this place appeals to both locals and tourists alike.
Along this coast, Aquiraz Riviera covers 700 acres and a mile of beachfront. It's a $350 million project from one of Brazil's wealthiest men. He finished the infrastructure (including a golf course) before placing a single property on the market for sale.
Today, the golf course is open for play, and a five star Dom Pedro hotel open for guests. Plans for Aquiraz include more upscale hotels, a shopping plaza and fancy restaurants. Aquiraz aims at upscale visitors…the chic set from Fortaleza, and the jet set from southern Brazil.
Inside Aquiraz, Manhattan Beach Riviera is a beachfront project of 252 condos, ranging from 872 to 2185 square feet. The largest penthouse units boast a spectacular layout over two floors, with sliding doors that allow fresh ocean breezes to roll in.
The smallest units start at 452,185 reals ($278,062). You pay 6% down, and make monthly payments of 1% of the purchase price for 37 months (4522 reals/$2780 a month). The developer plans to offer financing on the balance at completion.
And there's a way to generate income here. Brazil's chic jet set will want to stay here…and they'll pay top dollar if they get good service. That's where the Dom Pedro hotel comes in.
You can use the hotel for check-in, maid service, room service, concierge service…
And you'll only pay for those services if you use them. In other words, your renters will cover the cost of the hotel services that they use…and you get the rental income.
This isn't a deal for everyone. It's not cheap. But if you're looking for a high-end beach retreat close to a major city, you should consider it. Click here for a full information package on Manhattan Beach.
That's three deals, with different style and amenities, but all with handsome developer financing. They prove that Brazil is affordable…if you know where to look. All three have limited availability, so contact the broker today for an information package…before it's too late.
Margaret Summerfield
---
---
Posted Under:
brazil, developer financing, affordable
---
Sign up here for your free Pathfinder Alert e-letter, and we'll send you our $50,000 Report...showcasing seven real estate opportunities for $50,000.
We value your privacy.