Friday, January 25, 2013


It's easy to see why Virginia and Robert love Las Terrenas
Dear Reader,
This week we're going to hear from some of your fellow readers who have already bought a vacation or retirement home overseas.
Let's start today with Virginia and Robert. They just bought a condo in the little beach town of Las Terrenas in the Dominican Republic.
Las Terrenas ticks all the right boxes if you're looking for a Caribbean island home. It's got gorgeous beaches lined with coconut palms. It's got gourmet restaurants, a French bakery, an Italian ice-cream parlor and little beach bars. It's got friendly locals. It's got a wonderfully slow and sleepy pace of life that runs on island time.
And it's good value. Properties here are very affordable. Better yet, a vacation home in Las Terrenas can earn good income if you rent it out when you're not using it yourself.
Virginia writes: "The short story is that we too fell in love with Las Terrenas. We recently purchased a small condo a short walk to the ocean and close to this eclectic town. It's a delightful town, in a truly beautiful location."
Virginia and Robert always dreamed of retiring overseas. Their search began more than 15 years ago. Back then, Robert took the lead while Virginia "focused on our two small children and soccer schedules. Robert kept sending me articles which read, "Own land in Ireland for as little as $5,000." Although I did not grasp such ideas, Robert kept reading. Eventually the children grew to enjoy their own successes, and we retired from our professions."
Then the search started to get more serious. They decided to attend an International Living conference in Las Vegas. They learned a lot from the speakers, chatted with attorney contacts and, as Virginia says, "Each break we entertained another location, gathering data and brochures".
Back home in Florida, Virginia and Robert "studied all that we had learned. We selected the Dominican Republic as a likely place to begin our search. We scheduled a double Chill Weekend in two different locations on the island."
The trip was a success: "We loved the lush country, historic capital, beautiful waters, and the genuinely happy people".
Virginia and Robert decided that the little beach town of Las Terrenas was right for them. They didn't find their dream property on that first trip. But a short while later (in a Real Estate Trend Alert mailing) they saw a condo that fit the bill. And from then on, according to Virginia, it was smooth sailing: "A quick return trip found us closing and staying in our condo before Christmas!"
Virginia and Robert bought in this complex: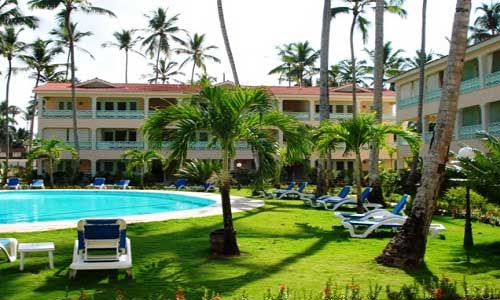 It's in a good central location, close to the beach, stores, restaurants and cafes.
There is another unit for sale in the same complex. It's a three-bed two-bath corner unit on the ground floor with 1,291 square feet of living space. That includes a large terrace for entertaining. The condo is fully furnished and listed for $139,000.
This location appeals to renters. You could expect 70% occupancy if you rented this unit out short-term. And you can charge up to $190 per night during high season.
You can contact local real estate agent Toni Green here to find out more. Virginia and Robert worked with Toni to purchase their dream property - and she can help you find yours.
Margaret Summerfield
---
---
Posted Under:
dominican republic, las terrenas
---