Sunday, October 28, 2012
Dear Reader,
Frommer's calls it Costa Rica's final frontier.
It's often compared to Tahiti or the coastlines of Thailand or Vietnam. It's just as stunningly beautiful. But it's much easier to get to. And it's very affordable.
It's Costa Rica's Southern Zone. If you're looking for a second home location in Costa Rica with upside potential you should put this place on your shortlist. Here's why...
The Beauty. The Southern Zone is a region of rugged natural beauty:
The sharp peaks of the Talamanca Mountains fall almost vertically to a coastline of unspoiled beaches, rocky points and quiet coves. Waterfalls send cool, clear water crashing down the mountainsides. Clouds ring the tops of the highest peaks. Rich green forest covers the mountain slopes which meet the sandy beaches on this Pacific coast.
Almost two-thirds of the land in the Southern Zone lies in protected parks and reserves. The waters of the Golfo Dulce ("Sweet Gulf") teem with marine life, including dolphins and whales.
Corcovado National Park is truly wild, without roads, stores or hotels. Massive trees tower overhead, filled with chattering monkeys, neon-bright frogs and spectacular birds. Vines drape themselves over tree branches and around immense tree trunks. The thick undergrowth conceals big cats and tapirs. Giant otters play in the sparkling rivers that run through the park. This is the "most biologically intense" spot on the planet, according to National Geographic.
The Southern Zone is a playground if you love spending time outdoors. Swimming, surfing, sea kayaking, canopy tours, zip lining, horse riding, bird watching, adventure and fun await you in this eco-wonderland.
The Amenities. Of course, the great outdoors is the biggest amenity. But the Southern Zone isn't entirely a frontier outpost. You won't rough it here - unless you want to. The village of Ojochal has a small town feel, mom'n'pop stores and many of the conveniences you need (doctor, dentist, hardware store, gas station, and internet café).
You can grab an espresso and muffin from the coffee shop; imported Brie, fine wines, or Swiss chocolate from the delicatessen; or pick up smokehouse chicken for lunch.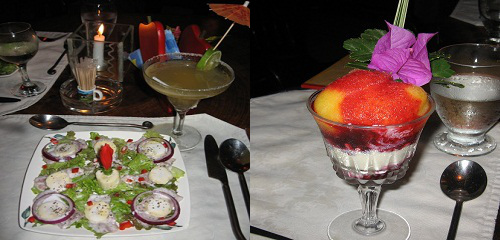 You can dine out in style at the little local restaurants
The tiny local restaurants serve French, Italian and organic food. A small group of expats run many of these businesses. You'll find banks and supermarkets close by in the town of Uvita.
For medical care, Hospital de Osa opened in 2008 in the Southern Zone. The 85,000-square-foot hospital features multiple treatment facilities including a state of the art emergency room, a pediatrics wing, a neurology center and an obstetrics and gynecology center.
Despite these amenities, the Southern Zone is still relaxed and tranquil. It feels as if it's off the beaten track. It's under-developed - you won't see giant supermarkets, big-name burger joints or sprawling hotel complexes. But this place has potential.
The Opportunity. The Southern Zone missed the property boom that swept Costa Rica's north and central Pacific coast in the early to mid-2000s. That's because until 2010 this region only appealed to those with a real frontier spirit. It was almost impossible to get to.
One road wound its way up to Costa Rica's highest point at 11,300 feet, around hills and mountain ridges. It wasn't an easy drive. You needed to pay attention to the twisting road and sharp bends. And getting stuck behind a truck or bus meant long delays.
The other road hugged the coast. But after decades of neglect the road surface had worn away. Old military-style bridges connected one section with another - and often they only allowed single-file traffic. Big stretches of the road were impassable in rainy season and incredibly uncomfortable in dry season.
It took seven hours or more to reach the Southern Zone from San Jose (Costa Rica's capital). It felt like seven hours of back-wrenching, bone-jarring, kidney-shaking hell.
Only foolhardy surfers and sport fishermen and the odd determined property scout traveled to the Southern Zone. So while property prices quadrupled in three short years on Costa Rica's north Pacific coast, they stayed low here. The mainstream developers, tourists and property shoppers that fueled the north Pacific boom never made it to the Southern Zone.
They didn't know what they'd missed out on.
In January 2010 the new coastal road opened. It's now smooth, pothole-free, with new bridges and drainage systems. It's easy to drive, comfortable and quick. It takes three hours to get to the Southern Zone from San Jose. And now you get to enjoy the view on the way: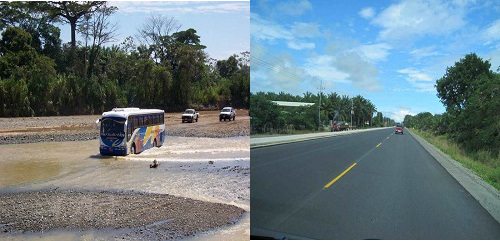 Out with the old road, and in with the new...
Government plans call for a new domestic airport in the Southern Zone to replace the little airstrip that's here now. The new airport would expand to take international flights. They're currently studying environmental impact reports on the airport. An airport would really push this place center stage.
For now, you can buy mountain-view lots in the Southern Zone from $40,000 - or a lot plus home package from $140,000 - in a gold standard, established community.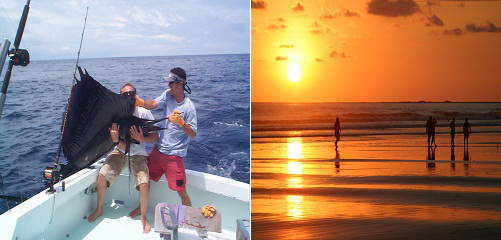 This place is all about the great outdoors...
Test-Drive It: You should come and see this place for yourself. The easy way is on a Southern Zone chill weekend. You'll travel the new coastal road and spend time in the largest private community in the area with those turnkey homes from $140,000. You'll enjoy good company, freshly-prepared meals and plenty of down time. You'll explore the Southern Zone's beaches, villages and nature parks and meet some of the friendly expats who have already made the move.
This chill weekend is your chance to try on the Southern Zone for size and see if it fits.
All you have to do is book your flight and the developer takes care of the rest. The trip costs $299, which includes airport transfers, meals, transport and accommodation. You get to sit back, soak up the Southern Zone's magical atmosphere, and decide if it's right for you.
Click here today to book your place.
Margaret Summerfield
P.S. These trips are popular and fill up fast. If you really want to see the Southern Zone for yourself, don't delay: click here today for a full information package and start planning your trip.
---
---
Posted Under:
---
Sign up here for your free Pathfinder Alert e-letter, and we'll send you our $50,000 Report...showcasing seven real estate opportunities for $50,000.
We value your privacy.