Sunday, February 20, 2011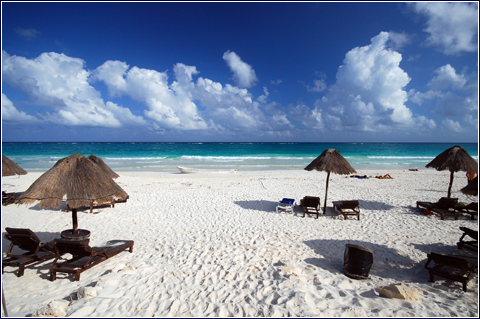 The perfect second home location?
Dear Reader,
Buying a second home overseas makes sense on many levels. It's an asset...an investment with the potential for appreciation and possibly rental income...and somewhere that you'll enjoy spending time with friends and family. When choosing your second home, it's easy to decide what type of property you want (house or condo), or how many bedrooms you need. But what other factors should you consider before you buy your second home?
Today, we'll look at five features that make a second home more desirable. That's not just to you, but also to future renters and buyers. And I'll show you one second home option that ticks all these boxes...and how you can check it out for yourself. But now, straight to those features...
#1. Affordability. A second home shouldn't over-stretch your bank account. The price tag is all-important: You have a budget you're trying to stick to. But check if no-questions-asked developer financing is on offer. This breaks the purchase price into manageable monthly payments, so you can stretch your budget further. You can upgrade your second home with developer financing too--and enjoy a luxurious, brand-new condo rather than settling for a fixer-upper.
Our choice is in Mexico. It comes with a price tag of $158,000 for a new, 969 square foot condo, with high-end finishings. Developer financing parcels that price into monthly payments starting at $800.
#2. Proximity to the US/Canada. Buyers and renters look for different attributes in an overseas property. Some want a large spacious house in a rural haven...others a condo with top-notch amenities in a bustling city. One common factor buyers and renters all want is someplace that's easy to get to. That means regular direct flights from North America, and a drive of around two hours from the international airport. A home that fulfills those attributes should rent...and sell...more easily.
Our choice lies within that two hour drive time from Cancun's international airport on a fast, modern highway. Most of the bigger US carriers offer direct flights to Cancun from major hub airports (Dallas, Houston, Miami, Atlanta, New York, and Toronto). That signals a steady stream of tourists...and potential renters. Moreover, plans call for a new airport in Tulum, only 20 minutes away from our choice--and up to eleven million tourists using that airport. It's those potential renters again...more of them, and even closer than they are now.
#3. Natural Beauty. Let's face it...if you fall in love with an area enough to want to own a second home there, the likelihood is other people will too. The same goes for renters.
Our choice is hard to beat on that front. The stretch of coast south of Cancun is magical...with miles of sugar-sand beaches washed by the bright-turquoise Caribbean Sea. Offshore, the world's second-largest coral reef hides a vibrant array of marine life...from tiny, rainbow-bright fish to immense whale sharks.

This stretch of coastline is magical
Inland, dense jungle conceals ancient Mayan ruins, and frames deep water-filled sinkholes that mirror the blue sky overhead. A huge biosphere reserve covers more than two million acres of land. It's home to pink flamingos, manatees, ocelots and turtles.
#4. Amenities on your Doorstep. Most overseas property buyers...and renters even more so...want to have some amenities close to hand. Now, amenities can mean simple ones like grocery stores, restaurants and cafes...or more sophisticated ones like spas, golf courses, and cultural events.
Our choice is in a resort setting. Right on your doorstep, there's a 27-hole golf course and clubhouse. A short shuttle ride away, and still within the resort, you have a choice of restaurants and cafes...a gym and spa...swimming pools...and entertainment. Oh, and a gorgeous coral-sand beach...and the unmatchable turquoise Caribbean Sea.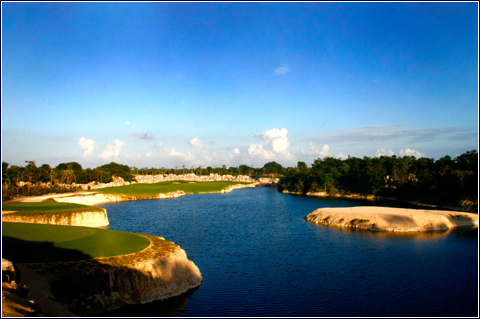 You have a 27-hole world-class golf course on your doorstep, and a whole lot more
Venture a little outside the resort, and you'll find the country's nicest beaches...a cute beach town with shopping, fine dining and a buzzing nightlife ...ancient Mayan ruins...biospheres, and water parks. In fact, there's something for everyone. That will make your home here more attractive to renters.
#5. Appreciation and Rental Potential. While it's nice to have a second home that you love staying in, having one with potential for price appreciation, or that will generate revenue from rental income, is the icing on the cake.
Our choice is $163 a square foot. Try buying a resort home in other parts of the Caribbean...and you'll see just what good-value this property is.
The price is also significantly lower than other properties of this standard, with access to these amenities, in this area. Your fellow readers bought condos by the same developer in the same resort for $199,000 in 2009. Ten months later, similar units were selling for $244,000. This is a similar early-in type deal.
The biosphere and the sea, and strict planning controls, limit the amount of developable land in this area. Yet tourist numbers are already growing. And the plans for the new Tulum airport call for up to eleven million tourists (and property shoppers) landing only 20 minutes away. That bodes well for future appreciation....and for rentability.
Vacationers currently pay up to $1155 a week to holiday in the resort. These chic condos should rent easily to the upscale travelers that the Mexican tourism board is working hard to bring here.
So, our choice is in Mexico...on a Caribbean coast...close to North America...with a raft of amenities...and it's highly affordable. To see it first-hand--and make sure it ticks all the right boxes for you as a second home--why not join us on for the Tao Center Chill this April 13th-16th...
For only $180 per person, you'll enjoy four days and three nights in the resort...with your accommodation and meals taken care of. You'll explore the fabulous beaches, the biosphere, and the resort...sip cocktails under the stars...soak up some of that Caribbean sun. And you'll find out how you can make this dream location your permanent piece of paradise...from $800 a month. With only 4 spaces left on this trip, you'll need to hurry. Contact Donna here and she'll send you an itinerary so you can reserve your place today.
Margaret Summerfield
---
---
Posted Under:
---
Sign up here for your free Pathfinder Alert e-letter, and we'll send you our $50,000 Report...showcasing seven real estate opportunities for $50,000.
We value your privacy.