Saturday, October 15, 2011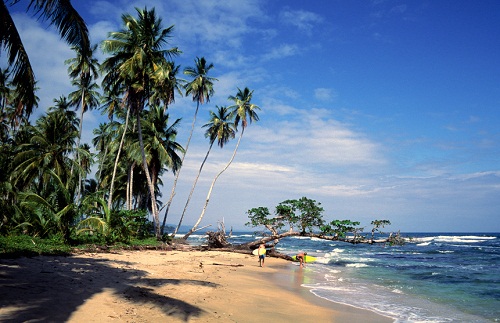 Costa Rica's Caribbean side is stunning...and undervalued
Dear Reader,
I often pick up little nuggets of information at conferences. I shoot the breeze with attorneys, real estate developers and brokers, and attendees. A brief chat will give me ideas to write about...lead me into exploring new locations...or reveal facts and figures I didn't know.
It's not just me. Attendees at last month's International Living's Costa Rica conference experienced this, too. They already knew about Costa Rica's natural attractions...her smoking volcanoes, mirror-smooth lakes, pretty beaches, and rich variety of wildlife. Some attendees knew that this little country attracts more than two million tourists a year.
But most attendees didn't know that Costa Rica rates highly on the economic front. Take a look and see for yourself...
Costa Rica's economic growth reached 4.2% (estimated) last year. It's projected to hit 4.3% for 2011. And FDi rated San Jose (Costa Rica's capital city) as one of the top five Latin cities of the future for foreign investors. FDi based the ranking on a number of categories, including economic potential, quality of life, and business friendliness.
In 2010, Costa Rica attracted $1.45 billion in foreign investment. This year, it expects to bring in $1.85 billion.
In July, IBM announced that they would invest $300 million in the country over the next 10 years. This investment will create a thousand jobs. IBM is just one of many Fortune 500 companies with operations in Costa Rica. Others include Hewlett Packard and Proctor & Gamble.
On August 30, Costa Rica's President signed a concession deal with Dutch company APM. At a billion dollars, it's the biggest concession deal ever signed in Costa Rica. APM will construct a new terminal in Moin, a port on Costa Rica's Caribbean coast. The terminal will increase the port's capacity and efficiency and the size of ships it can take. The work should create 2,000 direct and 8,000 indirect jobs in the area.
The conference attendees weren't very familiar with Costa Rica's Caribbean side, either. News of the concession deal, along with a new free-trade zone...both of which will bring more jobs to the area, which in turn should increase demand for housing and amenities... piqued attendees' interest. More than 70 opted to go take a look at Grand View Estates, one of the few established communities on Costa Rica's Caribbean side. They liked what they saw...
Grand View offers Caribbean country living at pricing that reflects the "early bird" nature of this side of Costa Rica. Grand View is 90 minutes from San Jose and 30 minutes from the Caribbean coast. Set in the Talamanca Mountains, Grand View's elevated site allows for fresh ocean breezes and ocean views from some of the properties. Home sites are generously sized, at an acre up...plenty of space to kick back and relax.
You're close enough to San Jose's shopping, medical care, nightlife, and international airport. But you can enjoy peaceful country living, with nature on your doorstep. Toucans and macaws will swoop past while you breakfast on your terrace...and you'll see monkeys, sloths and coatis. The Caribbean coastline is a series of white sand beaches, surf towns and hidden coves. It's perfect for swimming, surfing, diving, boating or fishing.
You can eat at little local restaurants, and shop at the farmer's market and grocery stores nearby. This place is all about slowing down...getting rid of the stress and hassle of everyday life...and perhaps savoring an adventure or two.
It's a lifestyle that clearly appeals to many. Grand View has already sold out three phases in their community. They just launched phase four.
Lots in phase four start at $65,028 for 1.34 acres. But you can take advantage of a special 10% discount. That cuts the price to $58,525. There's financing on offer too, although you don't get the 10% discount.
Now, Costa Rica's Caribbean is a unique spot, with a unique culture and vibe. It's hard to say if it's right for you or not, without trying it on for size. And that's what the developer wants you to do...
If you pay a fully refundable deposit, you can come and try out the Grand View lifestyle...for free. You'll stay in one of the finished homes in the community, and tour the area, and see if it's right for you.
If you don't like what you see, no worries. You'll get your deposit back. This really is a no-strings offer.
You can contact Gill Phelan here for more information on the special discount, available lots, and the invitation to visit. Gill relocated to Costa Rica's Caribbean side from the U.S. He'll give you the lowdown on why he loves this place so much...and why it could make sense for you.
Contact Gill today to start making plans for your Caribbean adventure in Costa Rica.
Margaret Summerfield
---
---
You might also be interested in:
This Place Has Serious Potential
---
Posted Under:
costa rica, real estate opportunities, caribbean
---