Saturday, August 11, 2012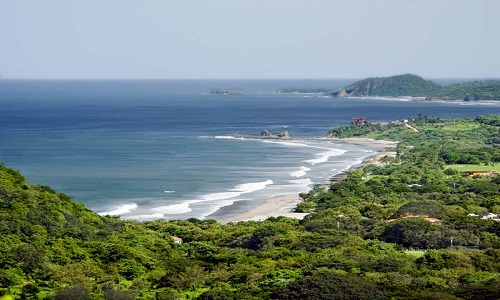 This Pacific Riviera coastline is a dream...
Dear Reader,
Nicaragua's Pacific Rivera coast is on the move.
This gorgeous coastline is a dream. Towering cliffs plummet down to crashing surf. Thick forests conceal exotic wildlife. Sandy untamed beaches run along the coast where you can swim or surf or sunbathe in the tropical afternoons...
This coast first caught the attention of mainstream property investors in 2002. They piled into the market. They snapped up prime beach, ocean-view and oceanfront land for a song. The buying frenzy inspired developers. They launched plans for ambitious projects with all the bells and whistles. It was boom time on the Pacific Riviera.
And then the boom hit a glitch in 2006. The presidential elections loomed, and it looked like Daniel Ortega would win. That scared some investors, and persuaded others to sit on the sidelines and see what would happen.
By the time they figured it was ok, the economic slowdown in the US had started. The market in Nicaragua relied heavily on North American buyers. That source of buyers dried up. Developments stalled, failed, or never got off the ground. Many existing buyers needed out, to shore up their finances back home.
And that means opportunity. It's like turning the clock back. Some motivated sellers have slashed their prices back to pre-boom levels. That's throwing up some great bargain properties.
But now it looks like the market is shifting on this coast. Carlos Pellas, one of the richest men in Latin America, is building a luxury project here called Guacalito. It's exclusive, high-end, and very expensive. It will have a golf course, a spa and a hotel that will charge up to $1,000 a night. There's a new road under construction and talk of an airport to bring hotel guests in.
Lots in Guacalito start from $240,000 and villas from $700,000.
The Guacalito project was on-again off-again for many years. Plans for the project went on the back burner with the presidential elections and the slowdown in the property market. Today, the Pellas family clearly feels that this is the right time to move ahead. It will take an estimated $250 million to complete the Guacalito project. That level of investment is a sign of just how confident the Pellas family is about this section of coast.
It's not just the Pacific Riviera. Nicaragua is on the up on many fronts. Tourist numbers hit the million mark in 2010. They climbed another 4% in 2011. Also in 2011, GDP grew by 4.7%. Exports went up 22% to $2.26 billion. Foreign direct investment reached $967 million, an all-time high.
You can see the country's growing prosperity when you visit Nicaragua. Shiny SUVs pass you on newly-paved roads and highways. Shoppers crowd the big malls in the country's capital, Managua. The local middle classes buy up many of the homes sold by North American owners who need cash back home.
Right now (outside of Guacalito) Nicaragua's Pacific Riviera is one of the most undervalued coastlines on earth. And it's one of the most stunning. But undervalued real estate like this won't last forever.
This is the stretch of coast. It's prime. And there's one other project here that's moving ahead. It's Rancho Santana.
Rancho Santana is close to Guacalito. It's spread out over 2700 acres of beach, forest and rolling hills. It's an established community with 75 finished homes. It's got an equestrian center, organic gardens and a grocery store. You can surf the net, watch your favorite programs on cable TV, or chill out over drinks at the bar.
Santana's developer is forging ahead and investing even more in this coast.
Earlier this year, the developer unveiled the new clubhouse, swimming pool and events facility. They're building a boutique hotel. They're investing not just in Santana, but in the potential this coast holds.
You might want to do this too, when you consider what your real estate dollar buys you in Santana. Take an ocean-view lot with views along the coastline. It's an impressive 1.36 acres in size. It's listed at $115,000.
A similar lot in an upscale community in Costa Rica or Panama would cost at least twice that price. Right now, this coast is incredibly good value.
If you'd like more details on Rancho Santana, you can contact Marc Brown here.
Margaret Summerfield
---
---
You might also be interested in:
---
Posted Under:
nicaragua, appreciation potential, affordable, beach
---
Sign up here for your free Pathfinder Alert e-letter, and we'll send you our $50,000 Report...showcasing seven real estate opportunities for $50,000.
We value your privacy.