Sunday, December 23, 2012
Dear Reader,
I've just finished a scouting trip on Mexico's Riviera Maya. So I know exactly what today's lucky winners will get.
They'll get four days in a little slice of heaven with turquoise seas, powder-sand beaches and rustling palm trees. Four days in a resort with luxury amenities…a gorgeous beach, a golf course, swimming pools, spas, restaurants and a unique wellness center…
Four days to kick back, relax, eat and drink all they want and sunbathe on tropical beaches.
In short, they get four days in an unbeatable Caribbean location. And they'll find out how to make this a permanent vacation spot from only $800 a month.
In fact, all the winners have to do is get to Cancun. Then they're set for some serious R&R.
Three lucky readers will win a luxury stay for two. Just click here to enter. You'll find out on January 11th if you're one of the winners.
Read more below on Mexico's Riviera Maya and how you can buy a luxury condo from only $800 a month.
Margaret Summerfield
The Ultimate Vacation & Retirement Spot
Dear Reader,
You're dreaming of your next vacation or your retirement. It's a heavenly mix of golden mornings, kicking back in a hammock and watching the world go by. You're enjoying the blissful serenity of it all. And then a little cloud drifts across your dream world. What will you do all day?
You know you'll love a few days of doing absolutely nothing. But then you'll get antsy. You'll want company…somewhere fun to go…something fun to do.
This place has it covered. It's got it all, pretty much on your doorstep. Fellow readers have already bought homes in this community. For some, it's their dream retirement home. For others, it's a fun vacation spot to share with friends and family.
It's a very appealing place to spend time. And you'll never get bored…
If you enjoy swimming or sunbathing you'll love the beaches. There's a lot of beach, and it's all gorgeous: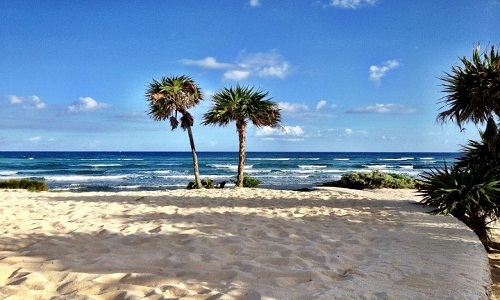 Divers and snorkelers will appreciate the warm waters of the Caribbean Sea. You can swim with giant whale sharks, manatees and sea turtles: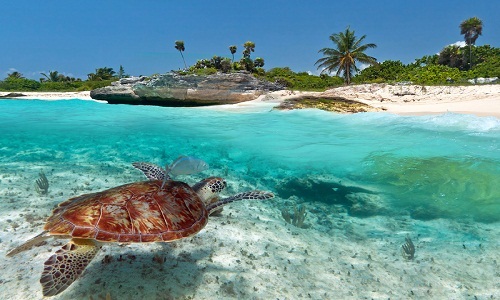 A huge barrier reef begs you to explore its jewel-like corals swarming with neon-bright fish. You can explore a network of limestone caves, sinkholes and underground rivers. Or discover the magic of a vast nature reserve that's untamed and filled with wildlife.
If you're into history, you can check out ancient Mayan temples and pyramids.
Golfers, take note. You're spoiled for choice in this location with more than a dozen courses- and an excellent 27-hole course alongside the community: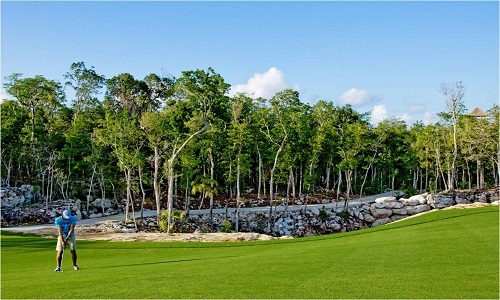 When it comes to restaurants, cafes, bars, entertainment and shopping, it's hard to know where to begin. You've got lots of choice in the community. Venture out to the little beach towns close by and you can take your pick…gourmet food, chic cafes, live music, clubs, movie theaters, big-box shopping and little family-run stores.
And those beach towns also host fashion shows, art exhibits and jazz, food and film festivals.
Back inside your community, an on-site Wellness Center opens up endless possibilities. You can swim in lap pools, work out in the gym, or take part in the morning yoga, meditation or tai chi classes:

You can get fitness and nutrition advice, learn about energy medicine, healthy cooking or how to salsa. The Wellness Center gives you the chance to balance your mind and body and achieve long-lasting inner peace.
You'll never go short of things to do in this location. Of course, you could still opt for the beach and the hammock…
Margaret Summerfield
P.S. If you'd like to see this special Caribbean location, you can enter the free prize draw here . Over three nights and four days, you'll relax at the resort, explore the real estate possibilities in the Tao community and soak up some rays on the sun-drenched beaches.
It gives you the chance to try on this lifestyle for size and see if it fits.
And the four-day stay won't cost you a cent if you win. Just get yourself to Cancun airport…and then set your watch to laid-back Caribbean time.
You can enter the free prize draw here.
---
---
Posted Under:

mexico, chill weekends, prize draw
---