Wednesday, August 29, 2012
Dear Reader,
I first scouted in Salinas, Ecuador six years ago. Back then, budget properties were easy to find. Even with only $50,000 to spend you could take your pick from condos, houses or town homes. And you'd often get a good ocean view or a location a short walk to the beach for your money.
Today it's a different story. Ecuador's real estate market hasn't boomed like Panama's or Costa Rica's. But property prices have increased steadily in recent years. They're going up because of strong local demand and higher construction costs. Another factor driving prices is the growing number of foreign buyers buying vacation and retirement homes on this coast. It's now very difficult to find properties in the $50,000 bracket.
But don't get me wrong. Ecuador still gives you the most bang for your buck when it comes to beach or ocean-view homes. You'll easily pay double the price for similar properties in Panama or Costa Rica. And you can still find some great properties, if you know where to look.
This property deserves your close attention if you're looking for a low-cost beach home. It's just come onto the market. It's got a great location and a very attractive price.
It's a spacious condo in the heart of the boardwalk in downtown Salinas. It's close to everything – shopping, nightlife, cafes, restaurants, and the beach.
It's a nice size with 143 square meters (1539 square feet) of living space including a large balcony that overlooks the beach and ocean. Both the master bedroom and the living area open onto the balcony. The current owners spend most of their time on the balcony. It's big enough for a large table and plenty of chairs. And you get to enjoy the view while you dine: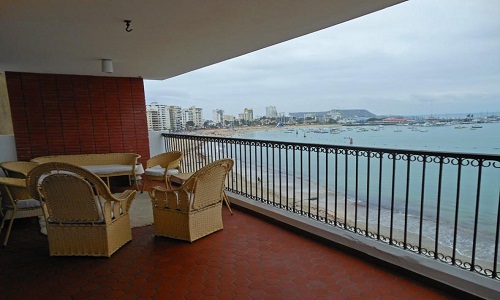 The condo is furnished and listed at only $90,000. That's because it's in an older building (which does have an elevator). The upsides of an older building like this are the large bedrooms, big balconies and getting one whole floor per condo. The downsides? You may want to update some of the finishes.
But even if you want a major overhaul – redoing both bathrooms, adding granite counters in the kitchen, replacing the floor tiles, taking down the wall between the kitchen and living area and painting the entire condo - that would only cost around $15,000.
You can get a full information package on this condo from local real estate agent Amy Pinoargote here.Don't delay. This is fresh to the market. It's a great deal, and I don't think it will last long.
Margaret Summerfield
---
---
Posted Under:
---
Sign up here for your free Pathfinder Alert e-letter, and we'll send you our $50,000 Report...showcasing seven real estate opportunities for $50,000.
We value your privacy.