Saturday, March 24, 2012
Dear Reader,
It's tricky when you buy a pre-construction condo. You sign on the dotted line, with no idea of what you'll get. The floor plan looks okay in the brochure. The floor tiles and counter tops look high-quality in the sketches. But you're now relying on the developer to deliver what he's promised.
And sometimes you get exactly that.
When I first saw the designs for Tao town homes, they looked very stylish. Clean, sleek living space that opens up to landscaped grounds. Homes that blend with the surrounding trees and golf course. The homes even bring the outdoors inside, with a tree in the living room as a standard feature.
This is the initial drawing that buyers saw of their Tao town home: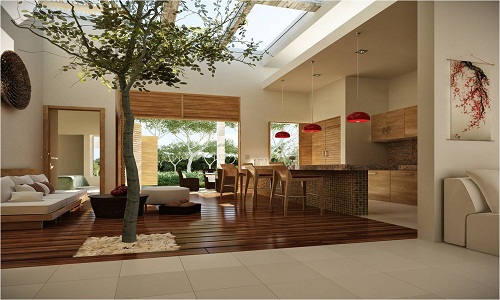 And here's an actual photo of one of the newly-delivered homes:
It's tricky enough relying on a developer to deliver what he promises for your condo or house. It gets even trickier with planned amenities. Developers leave the amenities until last. If they run short of funds, the amenities suffer. You may get a plunge pool rather than the Olympic-size pool you loved in the master plan - or you may not get a pool at all.
But the amenities in Tao are heading for completion. The focal point of the Tao community, the Tao Center, should open in a few weeks. Here, owners will swim in lap pools, work out in the fitness center, or practice yoga and meditation.
They can also take part in classes on salsa, Mexican cooking, or get some tips on speaking Spanish. The Tao Center will host guest speakers too, with topics ranging from the mysteries of the ancient Maya to inner well-being. It's all part of the Tao mind/body wellbeing program put together by Jonathan Ellerby (former spiritual director of Canyon Ranch).
And Tao offers even more. The Tao community sits in a five-star resort. The resort boasts a 27-hole golf course, cafes, restaurants, bars and a spa...and a long stretch of powder-sand beach, washed by the bright blue Caribbean Sea.
In terms of amenities, it's hard to beat Tao. And it boasts an excellent location. It's in the heart of Mexico's Caribbean coast, just 80 minutes from Cancun international airport. It's a stunningly beautiful place. And it's close to chic beach towns, Mayan ruins, water parks, nature reserves, an immense coral reef...and the country's top beaches:
The icing on the cake: Tao homes won't break the bank. Spacious condos, with a similar style as the town homes, start from $182,000. With developer financing, you can pay as little as $999 a month (plus some balloon payments) to own here.
It's easy to see why Tao proved the most popular buy with our readers in 2011. With the first units delivered, and the Tao Center up and running, I think it will take the top spot in 2012, too.
If you'd like to see Tao...check out the new town homes, the Tao Center...the golf course, restaurants, and cafes ...and spend some time soaking up the sun on those amazing Caribbean beaches...we've organized a special trip for Pathfinder readers.
This May 10th-13th, you'll enjoy four days on a Tao chill weekend trip for $180 per person. That price includes three nights' accommodation in the all-inclusive resort, and your transfer from Cancun airport.
The trip is the best way to get a feel for the unique Tao lifestyle...try it on for size...and see if it's right for you.
Spaces on the trip are strictly limited to 20. Contact the Tao team here to get more details - and book your spot.
Margaret Summerfield
---
---
You might also be interested in:
This Is Something You Should See for Yourself
---
Posted Under:
mexico, chill weekends, appreciation potential, caribbean
---
Sign up here for your free Pathfinder Alert e-letter, and we'll send you our $50,000 Report...showcasing seven real estate opportunities for $50,000.
We value your privacy.