Monday, June 21, 2010
Dear Reader,
Last November I told you about the casitas at Orchid Bay, Belize. Priced at $159,000, these little beachfront homes were a steal. Some of you even got in for less by taking advantage of the Pathfinder reader discount of $10,000. As you would expect, these homes sold like hot cakes. The entire phase sold out this spring. I doubt you'll get a bigger bang for your buck anywhere in the Caribbean.
Two of these little homes are now back on the market as re-sales, priced at $169,000. Even at today's price, these casitas are still a great buy.
Why not visit Orchid Bay and see these little homes for yourself? Your invitation is below.
Ronan McMahon
A Caribbean Paradise That Won't Cost the Earth

The relaxed, laid-back Caribbean lifestyle you've dreamed of can be yours...
Dear Reader,
"Is there a reason no Caribbean destinations are on your radar?" asked a reader I met recently. "Take a look at this photo [the one above]...Caribbean and on my radar," I replied.
But this Caribbean is different--it comes without the high price tag. Plus it's the friendliest and quirkiest place I've visited.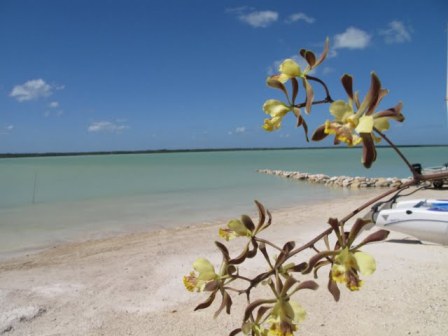 Orchid Bay offers a mile of oceanfront
Belize is my #1 Caribbean buy today. $169,000 buys you a casita in a community right on the water. The beaches are picture-perfect. The diving, world-class. In thick jungles, jaguar and scarlet macaw still live among hidden Mayan ruins.
But the people are Belize's biggest draw. English-speaking Belize is a melting pot of descendants of pirates, slaves, and conquistadores.
Belize received its independence from Britain in 1981--and inherited the British legal system. They have no army. Why would they? This country has never been at war.
Belize might just be the perfect tropical paradise.
I first visited Belize five years ago at the invitation of Orchid Bay. They wanted me to see their project...but most of all they wanted me to experience Belize.
Orchid Bay's vision called for a high-end community right on the water--with walkable streets, shops, restaurants, and activities on land and sea--which, today, is becoming a reality.
Orchid Bay's developer, Ari Kahn, has extended to Pathfinder readers the same invitation to visit Belize I received five years ago. He's so confident that you will enjoy this country, he's even willing to cover some of the cost of your visit. Your three-day chill weekend trip includes luxury beach accommodation, a tour of ancient Mayan ruins, even a Hawaiian-style pig roast on the beach...for just $299 pp. The next trip runs August 20-22, 2010. Read more about Orchid Bay below...or click here to reserve your place.
Ronan McMahon
Welcome to "The Garden of Eden"...
The Belize Barrier Reef is the world's second-largest
If you've ever dreamed of sitting back on the beach, soaking up the Caribbean sun, and enjoying the quiet ambiance of your own exquisite resort home ...well, this is your chance to make those dreams come true -- at a fraction of the price you would expect to pay.
One of the world's leading travel guides called Belize, "The Garden of Eden." After all, where else in a country the size of Massachusetts do you come upon mile after mile of fragrant pine, counter-pointed with swaying palms; jungles where no man has set foot for over 1,000 years; atolls, islands, and barrier reefs with a rainbow kaleidoscope of tropical fish; savannah; majestic mountains; and Caribbean waters so crystal-clear you can see the shifting sands of the sea floor 150 feet below?
The scenery and serenity of a beachfront community in an untouched tropical paradise
Orchid Bay is the most idyllic and innovative resort community ever conceived in the tranquil, tropical nation of Belize. Hewn out of some of the world's most beautiful rainforests, with the rolling waves of the turquoise Caribbean lapping up on its shores, Orchid Bay offers a sense of serenity and security rarely found in today's world.
Yet, Orchid Bay also promises to be a vibrant and exciting community; a close-knit neighborhood where old and new friends alike can gather at the planned town center for small talk and great times.
It's a community where you will enjoy the amenities you've come to expect -- and can expect exciting new adventures you'll quickly come to enjoy.
Let me put it this way: If you're a person who likes all of the conveniences of the modern era ... and all of the comforts of a Mayberry on the beach -- all rolled into one -- look no further.

The interior of a casita
The experts say the top three criteria for real estate value are location, location, and location...in which case, the community at Orchid Bay shouts here, here, here.
Orchid Bay is ...
A luxurious stretch of beachfront with 115 acres of untouched rainforests and a mile of oceanfront on a tranquil turquoise bay perfect for swimming, diving, snorkeling, fishing, sailing, or simply strolling along the shoreline admiring the powder-blue sky.
A two-hour flight from the US.
Conveniently located just two hours from Belize City by car.
Only 10 miles across the Bay of Chetumal from the beautiful, bustling metropolis of Chetumal, Mexico, with its modern American-style mall, state-of-the-art cinema plazas, crowded city sidewalks, beachfront eateries, first-class restaurants, vibrant nightlife -- and prices a fraction of what you'd find in most U.S. cities.
A short boat-ride from Ambergris Caye, the alluring tourist hot-spot made famous by FOX Network's tantalizing Temptation Island.
Within driving distance of the 2,000-year-old Mayan ruins at Altun Ha. It's here the Temple of the Sun God reaches 60 feet above the jungle floor. And only a few yards away is the Temple of the Green Tomb, where archaeologists uncovered the solid jade head of Kinich Ahau, the largest jade carving ever found in any Maya country.
Orchid Bay is constructing 21 one-bedroom, 982-square-foot casitas grouped in a small neighborhood that is anchored by a restaurant, swimming pool, and clubhouse.
Seeing them, I don't know why every developer doesn't plan to build a little neighborhood of affordable, turnkey, high-quality single-family units onsite in a highly desirable part of the project.
These casitas are nice enough that you can do almost anything with them...enjoy one as a vacation home, live in it full time, or rent it out to other vacationers or to people who want to be onsite while their Orchid Bay custom homes are being built.
Dan Prescher, Editor, International Living
Orchid Bay gives you everything you want, and more...!
If you've read this far, I have a feeling you will agree that for anyone who wants to enjoy the luxurious lifestyle of a Caribbean resort ... with all of the comforts and convenience of modern living ... and the close-knit camaraderie of friends and family, the community of Orchid Bay is well worth considering.
It's affordable. It's amenable. And it's a world removed from the hustle and bustle, the hurry and worry, we'd all like to occasionally escape. Add in beautiful white-sand beaches, a crystal-clear turquoise bay stretching as far as the eye can see, and palm trees swaying in a Caribbean breeze -- and you have a feel for Orchid Bay.
I think you'll agree this is a once-in-a-lifetime opportunity that warrants your careful attention.
Margaret Summerfield
---
---
You might also be interested in:
---
Posted Under:
---
Sign up here for your free Pathfinder Alert e-letter, and we'll send you our $50,000 Report...showcasing seven real estate opportunities for $50,000.
We value your privacy.