Saturday, May 19, 2012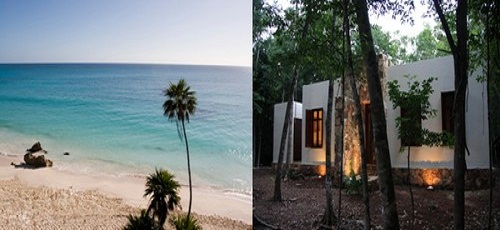 White sand beach or green oasis? You can enjoy both…
Dear Reader,
It's a Caribbean bolt hole. But it's not your stereotypical Caribbean getaway. It's only a 12 minute drive from scene-stealing Caribbean beaches. But this is a cool, shady forest retreat that offers the ultimate in privacy.
It's Los Arboles Tulum, a unique community in Mexico's Riviera Maya. It's unique in a couple of ways. First, lots in Los Arboles don't look anything like your typical cookie cutter subdivision. They're huge, at five acres each.
Five acres of forest, filled with tropical birds and butterflies, monkeys and orchids. Five acres of personal space, that acts as a buffer between you and the outside world. Your neighbors are close by when you want to hang out. But you can't see them or hear them. You're in your own five-acre oasis of peace and quiet…
Los Arboles also goes against the grain of most upscale Caribbean communities. It's off-grid and eco-friendly. Owners will use the sun and wind to power their homes with low-decibel generators as a back-up. Los Arboles uses the stone cleared from home sites for hand-finished curbing. Roads branch around decades-old trees. And around 95% of the 1200 acres will stay as virgin forest.
The homes in Los Arboles use lots of natural finishes (wood, stone). But they're not rustic or old-fashioned. They come with all the conveniences we take for granted – such as air conditioning and hot water, phone and Internet. They're comfortable and stylish.
In fact, some of the finished homes are amazing. One looks space-age modern with a series of pods as guestrooms, connected by walkways to the main house. It would easily grace the pages of a glossy coffee table book.
Los Arboles is only twelve minutes from stunning beaches like this one: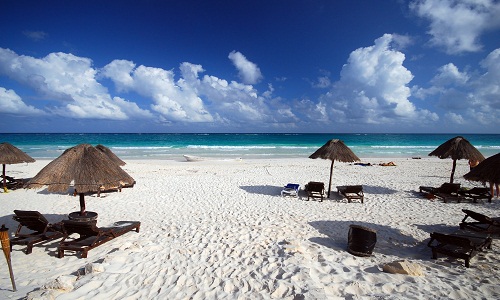 So you get the best of both worlds. In Los Arboles, you'll enjoy a forest retreat where you can spread out and relax, close to gorgeous beaches. The location is hard to beat. It's two hours from an international airport, and 10 minutes from banks, grocery stores, pharmacies, restaurants and cafes.
Forty minutes away you can shop in Walmart, dance the night away, or eat in gourmet restaurants. Golf courses, marinas, water parks, Mayan ruins, a barrier reef for snorkeling and diving: they're all on your doorstep. You won't run short of things to do…
Homes in Los Arboles start from $202,000. That price includes your five-acre lot. You can choose your home from eight different designs. Every home comes with plenty of outside space where you can kick back in your own little kingdom…
Los Arboles is a special place. It's hard to tell if it's your piece of paradise on paper. You need to come and see it for yourself.
And you can do this easily on a Los Arboles chill weekend for $299.
Over three days, you'll explore this area. You'll check out the little beach towns close by. You'll see the world-famous Mayan ruins. You'll soak up the sun on the white coral beaches…
Moreover, you'll spend time at Los Arboles viewing the finished homes.
This short trip will give you a feel for what it's like to live here.
Just get yourself to Cancun airport, and the Los Arboles team will take over from there. You can sit back, try on this the Los Arboles lifestyle for size, and see if it fits.
The $299 includes accommodation, transport and some meals.
The next trip runs March June 28-July 1, 2012.
Spaces are strictly limited. The Los Arboles team wants to give you as much time and attention as you need to make the trip worthwhile.
Contact Donna here for a full in formation package on Los Arboles and the chill weekend this June 28th- July 1st.
Margaret Summerfield
---
---
Posted Under:
mexico, opportunities, real estate opportunities, caribbean
---
Sign up here for your free Pathfinder Alert e-letter, and we'll send you our $50,000 Report...showcasing seven real estate opportunities for $50,000.
We value your privacy.