Sunday, May 17, 2015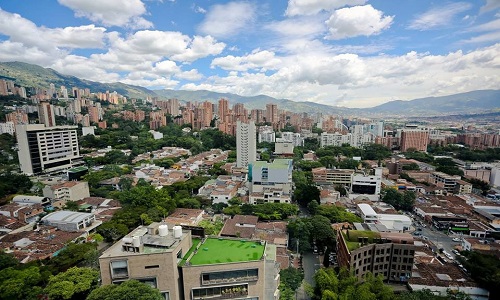 It's now better value to buy a home in the City of Eternal Spring
Dear Reader,
We've written before why Medellin, Colombia, is worth checking out if you're looking for a profitable overseas property.
In Medellin, you get a very attractive combination of great property values and strong rental yields.
And now there's an added incentive to buy in Medellin: your real estate dollar goes a lot further.
In July 2014, one dollar bought you 1,842 Colombian pesos. But last September, the dollar started on an upward trend that's seen it strengthen against the peso. Today, one dollar is currently worth 2,388 Colombian pesos.
Now, that decline in the value of the peso is good news if you're looking at buying a property in Colombia. Property is priced in pesos. So just on the exchange rate you'll pay up a significant chunk less for a property than a year ago.
And you can still expect the same great values and strong yields.
We'll take a look at a specific property sample in a moment just to see the savings you'd get from the exchange rate. But first, let's talk about why you should put Medellin on your shortlist.
With a population of 2.4 million people, Medellin delivers on big-city conveniences such as excellent medical care, good public transport, shopping and dining, and entertainment.
Medellin, the second-largest city in Colombia, is an important economic hub. The Golden Mile district is home to businesses, banks, and offices. The city produces textiles, steel, food and beverages, and flowers.
But this is more than just a thriving commercial city. This is also a place you'll enjoy spending time. Medellin sits in a narrow valley, surrounded by mountain peaks.
At 5,000 feet above sea level, it's got a mild climate with average lows around 62 F and average highs around 82 F. You won't need heating or air conditioning. Thanks to that pleasant climate, Medellin is known as "the City of Eternal Spring."
It feels lush and green. Rivers and streams flow down the slopes of hills into the valley below and weave their way through little parks and green spaces dotted around the city. 
The nicest neighborhood is El Poblado. It's leafy, with tree-lined avenues, pretty plazas, and peaceful parks. It's an upscale part of the city, with lots of restaurants, cafes, and bars.
It's popular with different groups of people. Tourists come here on vacation. Professionals and executives come here to work.
Tourists will often rent short term for a few nights or weeks. Those in Medellin for business stay longer and rent by the month or for six- or 12-month periods at a time. So, buy a property in El Poblado, and you've got the possibility of renting it out short term or long term, to very different groups of renters.
There is a caveat, though. The short-term rental market in Medellin is regulated. If you buy a condo in a high-rise building, 70% of your neighbors must agree to allow rentals of less than one month. That's not as easy as it sounds in higher-end buildings. As a landlord, you see short-term renters as a great source of revenue. Your neighbors, on the other hand, may see them as a potential nuisance.
But if you can rent short term, El Poblado is the neighborhood to do it in. The sweet spot is a small area round Parque Lleras, home to restaurants, bars and nightclubs, and close to the Golden Mile. Buy a unit in this sweet spot and you'll attract both vacationers and business travelers.
The secret is to buy in an older building. New condos come with premium price tags. Many buyers will happily shell out more for a home in the latest, most upscale, building.  But you'll find much better value per square foot in older buildings, and still get good rental returns.
Take this large condo in La Linde, one of the most exclusive areas in El Poblado. It's a short walk to the Zona Rosa and Parque Lleras, so a great location for a rental property or full-time living. It's also close to supermarkets and a big mall.
The condo has three bedrooms, four bathrooms, and a balcony with views of the city. It also boasts a large terrace with a hot tub. In total, it covers 278 square meters (2,991 square feet).
Features include hardwood floors and cabinetry and an open-plan kitchen and living room:
The list price is 420 million. That's Colombian pesos, which works out to $175,861 at today's exchange rate of 2,388 pesos to one dollar. Last year, when the rate was 1,842 pesos per dollar, that same condo would have cost $228,013. You're saving $52,152 thanks to today's favorable exchange rate.
The list price also works out to only $632 per square meter. That's really good value for this area. The condo is in an older building. You'd easily pay double that price per square meter for a unit in a newer building.
It's also great value when you consider that this is a condo in a prime neighborhood, in a major city, that's increasingly popular with expats, tourists, and retirees.
Plus, there's the rental angle. Furnish this condo and you could rent it and generate up to $1,800 a month in rental income. That would give you a return of 12.2% gross rental yield. The listing agent figures that would break down to 8% net once you deduct your overhead and expenses.
You can request more details, including rental projections, from the listing agent here.
Margaret Summerfield
---
Sign up here for your free Pathfinder Alert e-letter, and we'll send you our $100,000 Report...showcasing 17 real estate opportunities for $100,000 – or Less.
We value your privacy.