Sunday, September 28, 2014
Dear Reader,
It's funny how places fall in and out of favor with the public. One minute, a beach town is the hot resort where everyone wants to be seen. The next, the crowd has moved on—and the beach town slips into the background. It's no longer a cool, hip destination. Until it's "discovered" again, some years later, and the next wave of visitors and investors rolls in…
That's what happened with Ballenita in Ecuador. Ballenita is a small beach town on Ecuador's southern Pacific coast. For many decades, it was the beach destination of choice for Ecuadoreans. But then the resort city of Salinas, only 10 minutes away, stole the limelight. Salinas became the place to go…the place to vacation…the place to own a second home. Ballenita no longer made the grade.
But today it's a different story. Salinas is still a trendy playground, the beach town of choice for well-heeled locals. Salinas is also popular with North Americans looking for a low-cost home close to the beach.
Your real estate dollar goes a long way in Salinas. But you can get even more for your money in Ballenita. It's not fashionable right now, so property prices are extremely good value.
Ballenita is a two-hour drive on a good road from the international airport in Guayaquil. It's 10 minutes north of Salinas. It's got a wide, sandy beach that's mostly sheltered and good for swimming. Ballenita feels small-scale and local rather than touristy. It's got some basic grocery stores and rustic beachside restaurants.
But it's only 10 minutes to a mall, a movie theater, a modern supermarket and a big produce and seafood market. It's 20 minutes to the boardwalk in Salinas, which is home to lots of restaurants, bars and cafes. You're close to the action, but away from the hustle and bustle of downtown Salinas.
There's a buzz in the air in Ballenita these days. A new bus terminal for the province of Santa Elena opened in Ballenita in 2013. The municipality wants to upgrade and extend the existing boardwalk in the town and add commercial areas. It will make a nice amenity that will appeal to both tourists and locals.
There's more construction around town, too. Small residential communities are springing up. Folks are remodeling older houses. Some are buying lots and building custom homes.
This first Ballenita home falls into the remodel category. It's a three-bed two-bath villa with a separate two-bed apartment. There is a large back patio and a spacious yard with enough space to add a swimming pool. The house right now doesn't look great: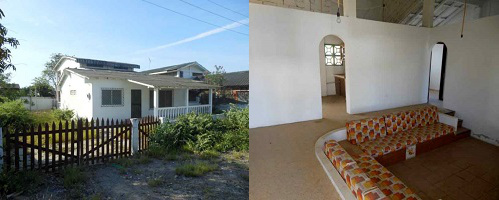 But a relatively small remodel budget could turn it into a nice home with a rental apartment or guest quarters. The house is listed at $50,000.
If you're looking for a new property, this one on the outskirts of Ballenita may appeal to you. It's a condo in a small oceanfront community. It's large, just under 1400 square feet in size. It's a 3-bed 2.5-bath unit with a private balcony and ocean views: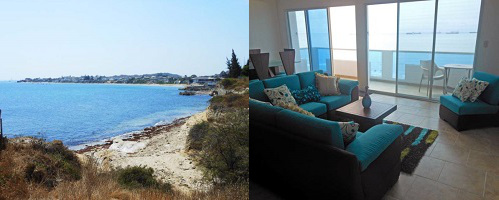 Finishes include granite counters, custom hardwood cabinetry and ceramic tile floors. The list price is $133,000.
For more details on these Ballenita properties, contact local listing agent Amy Pinoargote here.
Amy is running an Ecuador Coast Property Tour this December 3-6, 2014. You'll see the best properties on the market in Salinas, Ballenita and some of the other beach communities in this area.
You'll see a variety of properties—lots, condos and houses—with prices to suit most budgets.
The tour costs $549 per person. That includes four nights' accommodation, transfers and tours, and some meals. If you book before October 1, you can save $50, cutting the price of the tour to $499.
You can contact Amy here for more information on the tour, or to book your spot. But don't delay. The tour is strictly limited to 12 people. Once those seats are gone, they're gone. Contact Amy today to lock down your spot.
Margaret Summerfield
---
Sign up here for your free Pathfinder Alert e-letter, and we'll send you our $100,000 Report...showcasing 17 real estate opportunities for $100,000 – or Less.
We value your privacy.