Friday, August 22, 2014
Dear Reader,
I'm in San Jose, Costa Rica, as I write. My base is Escazu. This is an upscale neighborhood with expensive residential communities, private schools and foreign embassies. It's home to busy shopping malls and nice restaurants. It's very convenient, with access to the international airport, top-notch hospitals and big-box stores. But today I'm leaving Escazu behind.
I'm heading for a community that offers quiet country living. It's a complete contrast to the hustle and bustle of downtown San Jose. Yet you're still close to city amenities. I left my hotel an hour and fifteen minutes ago and I'm already here at the entrance gate of Colinas de Miramar.
I took the Caldera highway. This road opened in 2010. It cut the drive time from San Jose to Colinas in half. It's now quick and easy to get to the airport, the hospital, or the big-box stores. And there's plenty to do closer to home.
Colinas is only a 20-minute drive to the closest beach, Playa Dona Ana, which is only 10 minutes away: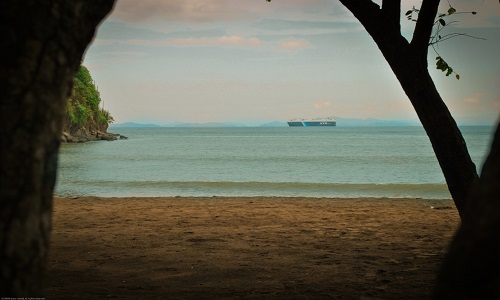 It's popular with locals but not well-known to tourists. It's got picnic tables and grilling areas. You can swim in the warm Pacific Ocean and relax with family and friends. The neighboring beach is good for surfers. Playa Blanca, a 20-minute drive, is a pretty beach with white sand.
Colinas de Miramar is set in the hills above the Pacific coast. If you keep driving up into the mountains, you reach Miramar. It's five minutes from the Colinas community. This is a pretty, scrubbed-clean village with local-style eateries and small family-run stores. There's a bank, a butcher's, a bakery, a hardware store, a gas station, a doctor and dentist. Thursday through Sunday, the local farmers' market offers fresh fruits and vegetables, cheeses and herbs.
The road winds up through the mountains to a lookout point, a mirador. From here you can look down the valley, across the forest-covered hills, out to the Gulf of Nicoya. It's an amazing view. A restaurant at the mirador serves chilled beers and freshly-prepared food. It's a great spot for an alfresco lunch.
You can go horseback riding through the hills, bird watch or hike. Adventurous souls can try white water rafting, zip lining and para-sailing.
Colinas de Miramar is set in 647 acres of hills, streams and old shade trees: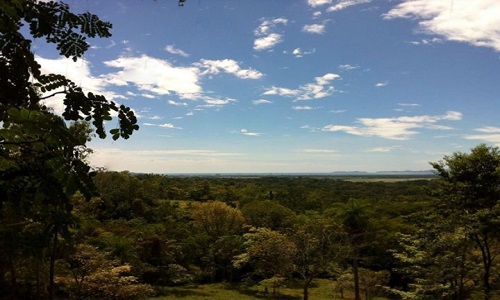 It's got the Tilaran Mountains to the back and the Gulf of Nicoya to the front. Some lots have wide ocean views.
It's in a location with a little bit of everything. You can enjoy peaceful country living in a quiet rural setting. Yet you're close to the city…even closer to the beach…with the mountains on your doorstep.
Despite the upsides, this location is overlooked by tourists. A few visit when their cruise ship docks at nearby Puntarenas port. Most passengers head north or south, though, and skip Miramar altogether. Locals from San Jose come to Puntarenas for a day trip to the beach. Again, most don't visit Miramar.
The opening of the Caldera highway was a game changer for the area. But property prices don't reflect its new accessibility. They're still very affordable.
Lots in Colinas are large, an average 1.25 acres. That gives you privacy and space. You can buy a lot with mountain views from $55,000. Lots with ocean views start at $99,000.
Lot prices are 30%-50% lower than comparable lot prices in communities close by. That's possible because the developer's family has owned the land for many generations. There's no debt on the project.
You pay one-third of the purchase price down and then pay the remainder over two years, interest-free.
The roads, water and electricity are already complete in phase one of the community. Around 20 lots are sold, mostly to North Americans. One lot recently sold to a doctor who works at Puntarenas hospital. He plans to build a house for his family to live in Colinas full time.
One owner has built a house which gives you an idea of the type of finishes you can get. He's got custom hardwood cabinetry in the kitchen, tropical hardwood doors and granite counters: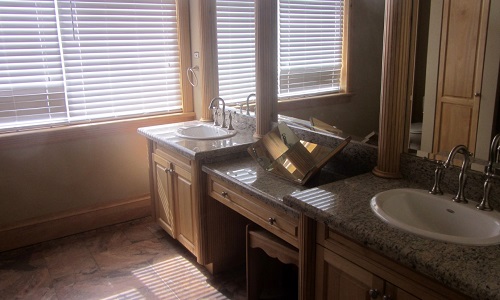 Build costs run around $85 per square foot.
You don't have to build if you don't want to. There's no timeframe to do so. You can buy now at today's prices and sit on your lot—and build when you're ready to retire.
To get a full information pack on Colinas, contact John Podesta here.
John can help arrange a trip to see Colinas de Miramar, too. Contact him here and let him know when you'd like to visit. He'll help you figure out hotel bookings and airport transfers. He'll give you a free one-on-one tour of Miramar and the surrounding area.
If you long for country living but don't want to move too far from the city…love the mountains and the beach…Colinas de Miramar fits the bill. Contact John here for details of lot prices and availability.
Margaret Summerfield
P.S. Members of our insider club, Real Estate Trend Alert (RETA), get a 10% discount on the purchase price of any lot in Colinas de Miramar. RETA members can bag a lot with mountain views from $50,000…or a lot with panoramic ocean views from $89,100.
The discounts at Colinas are just one of the many benefits RETA members enjoy. You can find out more here.
---
Sign up here for your free Pathfinder Alert e-letter, and we'll send you our $100,000 Report...showcasing 17 real estate opportunities for $100,000 – or Less.
We value your privacy.