Sunday, October 19, 2014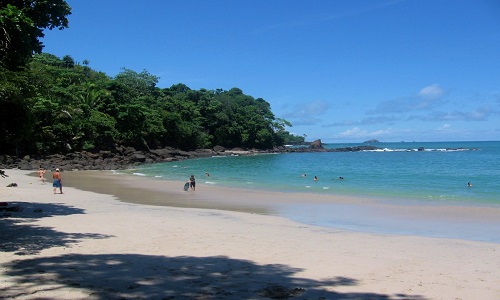 In this tropical escape, you can make some nice rental income…
Dear Reader,
It's heading into high season in Costa Rica's Southern Zone. The summer season starts in December, with warm sunny days and low rainfall. It's the perfect time of year to visit this lush region of the country.
I love this part of Costa Rica. It's got a dramatic landscape, unspoiled beaches and tons of wildlife. It feels adventurous, raw and untamed. But it's also got nice restaurants and well-stocked grocery stores, a deli piled high with cheese, chocolate and champagne, a bowling alley and a sports bar.
It's the ideal place to escape from everyday stress and busy schedules. I'm thinking of taking a short break there in December. Top of my trip-booking checklist—before checking for flights—was to find a nice hotel.
That's easier than it sounds. I went online, straight to the website of my favorite hotel in the Southern Zone. It's booked for the dates I want in December. In fact, it's booked for most of that month. It's already booked for some of January. And February is booked solid.
Hotel choice number two can't help either. They're also booked out for the dates I want. This is a common problem in the Southern Zone, especially in high season. It's because the hotels here are boutique affairs, with a very limited number of rooms. The biggest hotel in the area only has 30 rooms.
That spells opportunity for homeowners in the Southern Zone. You'd expect to find a rash of vacation rentals online, trying to turn a profit from the accommodation gap. But most owners in the Southern Zone don't want to rent their homes out. They prefer to keep them private.
And that's why owners who do rent can make strong rental income. We've written before about the owner who made $88,000 in rental income in just one year.
Now, this guy—let's call him Mr. Profit—is very hands-on. He lists his property on multiple vacation rental by owner sites. He advertises in Canada, where he is based, in print and online. He posts tear sheets in local restaurants, cafes and stores, paying a small referral fee to the business if he gets a renter through them. He fields queries, deals with payments, arranges for maintenance and cleaning.
It's given him a very fat profit margin. But for most owners, that sounds like too much hard work. And there is an alternative. You can hire a rental manager.
Mr. Profit's house is in the most established community in the Southern Zone, with 250 homes already built. Out of those 250, only a couple of dozen owners rent their homes out. The rest use them as full-time or part-time homes, shared only with family and friends.
I asked our contact for this community to work out the rental income on a new three-bed two-bath house in the community. He tried to match Mr. Profit as closely as possible. He calculates that buying a third of an acre ocean-view lot, building the house with custom finishes and a pool, plus buying furniture and appliances, would run around $294,000. That's the cost of your move-in ready, rent-out straight away, home.
You can charge up to $2,000 a week for a new home like this. Our contact estimated 48% occupancy. Mr. Profit rents for 50 weeks a year, keeping two blocked out for annual maintenance and repairs, but he's built up a repeat client list and a chunk of referrals from previous renters. You can generate $88,000 a year with occupancy rates above 85%. But it takes some years to get to that occupancy rate.
At 48% occupancy, you're looking at a gross income of $49,920 a year. Our contact reckons that your overhead would run to $9,100. Property taxes are very low in Costa Rica, 0.25% on the home I described above. Insurance would cost about $500 a year. The HOA fees in this community, which doesn't have shared amenities, are low at only $30 a month.
Deducting the carry costs from the gross income leaves $40,820 income. That's a 13.8% rental yield on your $294,000 home. You're hands-off, with someone else doing the legwork. And it still leaves you with 27 weeks a year to enjoy your tropical home. It sounds like a win-win to me.
Mountain view lots start as low as $40,000; lots with ocean views from $75,000. An on-site turnkey construction service means it's easy to build the home of your dreams. But you don't have to build until you're ready to do so.
If you'd like more information on this community, the available lots, and potential rental income.
Margaret Summerfield
Editor's Note: Members of Real Estate Trend Alert (RETA) get a discount of up to $20,000 on selected lots in this community. It's the easy way to build in a cushion of appreciation in your property from the get-go. Find out how you can become a member and maximize your property profits here.
---
Sign up here for your free Pathfinder Alert e-letter, and we'll send you our $100,000 Report...showcasing 17 real estate opportunities for $100,000 – or Less.
We value your privacy.