Friday, October 24, 2014
Dear Reader,
We cover a lot of different locations and a lot of property on the Pathfinder beat. When it comes to buying a home overseas, you get a lot of choice. But there's one community that's a firm favorite with Pathfinder readers. It's the most popular second home buy. It's the Tao community on Mexico's Caribbean coast.
So, what makes this place so special? Here are seven reasons why you should put it top of your shortlist.
#1. It's very accessible. Tao is just over an hour's drive on a smooth highway from the international airport at Cancun. You can fly direct to Cancun from many cities in North America. Hundreds of flights land at the airport every day in high season. You can fly from Houston to Cancun in just over two hours; from New York it takes just over four hours. You'll find some great deals on tickets thanks to competition from low-cost carriers like Spirit, JetBlue and LACSA. It's quick and easy for you to get here. That goes for friends and family who want to visit, and potential renters, too.
#2. It's the quintessential Caribbean. It's got everything a Caribbean destination should have—powder-soft sand, fabulous beaches and the bright-turquoise Caribbean Sea: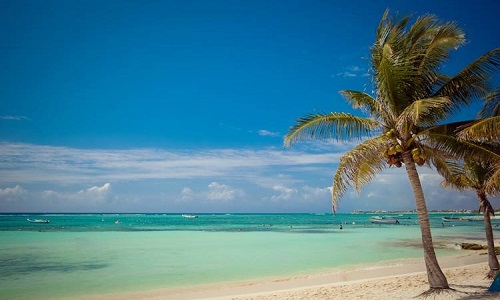 But there's no trade-off. This isn't a remote island that's impossible to get to, with lousy infrastructure and premium prices. As I've just explained, it's easy to get here. The infrastructure is top-notch. There's no "island premium" to pay for groceries or eating out. Yet it's home to some of the world's top beaches.
#3. It boasts first-class amenities. You can swim, dive, snorkel, or sail on this Caribbean coast. You can explore nature reserves and water parks, discover ancient history in Mayan temples or play a round of golf on championship courses. One of those golf courses is right on your doorstep at Tao: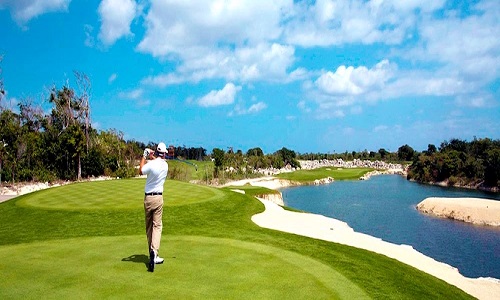 You can choose from a wide range of restaurants and cafes. You can party the night away in a buzzing bar or lively club. You can sample music, arts, film and food festivals. And in the Tao community you can learn salsa, join a yoga class or simply relax by the pool. You'll love the amenities, and so will your renters if you choose to rent your home out when you're not using it yourself.
#4. It's got tropical beach weather. You don't just get the fabulous beaches. You also get warm, sunny weather year-round on this coast. Temperatures average 73F-83F. It's a popular spot for folks looking you escape the cold winter months in the U.S. and Canada.
#5. It's got big potential. Four million tourists visited this region in 2013 and the government aims to double that over the next decade. Hotel occupancy hit 79.8%. This Caribbean coast is transforming itself from a closely-guarded secret known only to a select few into a luxury destination. It's fast becoming a hip, fashionable retreat for celebrities, business tycoons and the international jet set. Demand for homes is rising. But there's the Caribbean Sea, hemming in development, and more than two million acres of protected land. It limits the amount of land available for development. It's an investor's dream…
#6. It's Affordable. Tao is a private community set inside a five-star resort. You can see some of the finished homes here: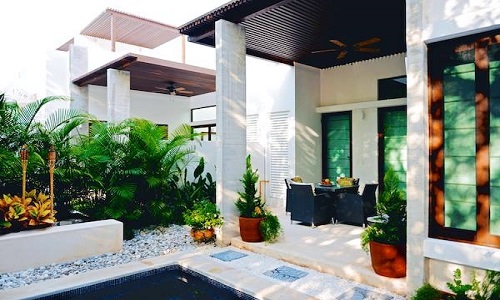 You can buy a luxury two-bed condo in Tao for as low as $201,000. Better yet, you can use developer financing to spread your payments. You'll make a down payment, monthly payments from as little as $800 plus some balloon payments, during construction. On completion, you can take the developer financing for up to 10 years. If you go with 10-year financing you'll pay $1246 a month.
#7. It's Easy to Discover. You can check out this Caribbean coast and the Tao community on a Tao Chill Weekend. These trips are fun. You'll spend four days and three nights in the resort. You'll explore the little towns nearby, relax on the beach and enjoy cocktails under the stars. You'll see the property options at Tao—and why it rates so highly with our readers. Your stay, including a transfer from the airport, full tours and all-inclusive accommodation inside the resort only costs $180. You couldn't match that price if you tried booking it yourself.
We're heading into the busiest time of year in this part of the world. It's tough to find a hotel room to book. If you want to go on a $180 Chill in the next few months, you need to contact the Tao team here today so they can lock down your room in the resort.
Margaret Summerfield
Editor's Note: Tao is certainly affordable—and even more so if you're a member of our insider club, Real Estate Trend Alert. Members get a 7% discount on selected condos in Tao. On a $201,000 condo, it cuts the price to $186,930. Plus, members get a free Chill Weekend and a $5,000 credit toward a furniture pack. If you're interested in Tao, you can't afford not to join Real Estate Trend Alert. Find out about the deals and discounts members can access here.
---
Sign up here for your free Pathfinder Alert e-letter, and we'll send you our $100,000 Report...showcasing 17 real estate opportunities for $100,000 – or Less.
We value your privacy.