Sunday, February 22, 2015
Dear Reader,
I was a speaker at a conference in Ecuador earlier this month. Many of the attendees asked me how real estate in Ecuador stacked up against other expat destinations such as Costa Rica and Panama.
For some, it was the start of their search for a second home overseas. Others were farther along with their search. They'd already settled on Ecuador, but they weren't sure exactly where would suit them best. They asked me to rate historic Cuenca versus downtown Quito…to tell them which beach town offered the best bang for their real estate buck.
But one attendee, Ron, was totally focused. He'd done a lot of research. He'd decided Ecuador was the place for him. He knew what he wanted—a location close to the U.S. so he could visit family and friends and they could visit him and somewhere warm where he could escape the cold winters back home. He wanted a beach home.
Ron grew up near the ocean in California. He lived for the beach, spending all his free time swimming, surfing, sunbathing, and hanging out with friends.
Ron always dreamed of owning a beach home. But he wasn't a millionaire. Ecuador's Pacific coast fit the bill for him. It offered a California-style climate, warm and dry, and a low cost of living. Plus, he could bag a home a stroll from the beach even on his tight budget. After some travel along Ecuador's coast and lots of property viewings, he'd found his sweet spot. He planned to buy a home in the little beach town of Olon.
Olon is located on Ecuador's southern Pacific coast less than three hours from the international airport at Guayaquil. It's 88 miles from Manta, a big city with an airport, shopping malls, and a hospital, and 46 miles to the bustling beach town of Salinas with yacht clubs, modern supermarkets, and a large produce market. It's just a five-minute drive to Montanita, a hip town that attracts surfers and backpackers from across the globe: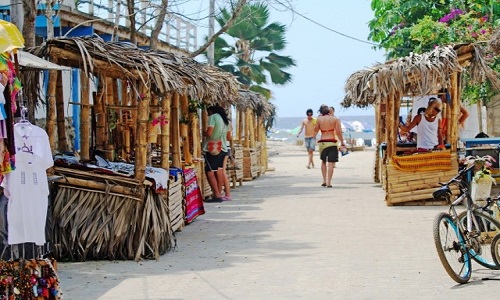 Montanita is party central at weekends. Ron enjoys the live music and choice of bars and restaurants. But he couldn't live there, he admits, it's too noisy. That's why he settled on Olon. It's only a few miles north of Montanita but it's tranquil, away from the crowds and the craziness:
The town of Olon is quiet and peaceful. It sits alongside Olon Beach, a 1.8-mile long, broad sweep of golden sand with some good surf breaks. It's rarely crowded apart from major holidays like Christmas, Carnival and Easter. The rest of the year, it's slow and sleepy.
Olon is home to little grocery stores, a small malecon, and some rustic restaurants and cafes. This isn't high-rise or all-inclusive resort territory. If you're looking for big-box stores, golf courses and fancy dining with white-glove service, you're in the wrong place.
Instead, Olon offers a relaxed, laid-back vibe. Just grab your board, ride the waves for a few hours and then kick back at a beach bar with a chilled beer and a big bowl of grilled shrimp as the sun sets in a blaze of pink or gold over the Pacific.
You'll find single family homes in Olon and small residential communities. In one beachfront community, there's a ground-floor unit with three bedrooms, two bathrooms, and a powder room. It's got an open-plan layout in the living area. It features a private yard and a spacious tiled terrace that's big enough for outside dining and entertaining:
There's direct access to Olon Beach from the community. The beach is only a short stroll from your front door.
The condo covers 179 square meters (1,926 square feet). It comes fully furnished and equipped. It was built in 2014 and was only lived in for a few months. It's now for sale with an asking price of $169,000.
If you want more details on this condo, or other beach property in this area, you can contact real estate agent Amy Pinoargote here.
Margaret Summerfield

---
Sign up here for your free Pathfinder Alert e-letter, and we'll send you our $100,000 Report...showcasing 17 real estate opportunities for $100,000 – or Less.
We value your privacy.