Friday, September 19, 2014
Dear Reader,
There's a part of Ireland that's famous for its legendary beauty. It's a top spot for tourists. They come from across the world for this region's beautiful mountain and lake scenery, wild, untamed beaches and quiet country towns.
Before Ireland's economic woes kicked in, a budget of $500,000 didn't go far here. But today it's a different story. A budget of $130,000 puts you in the game.
Ronan McMahon explains what makes this corner of Ireland so appealing—and why this may be your last chance to bag a bargain.
Read on below to find out more.
Margaret Summerfield
****************************************
On This Scenic Irish Coast, $130,000 Puts You in the Game
By Ronan McMahon
Dear Reader,
Here's the view from my office just after sunrise this morning: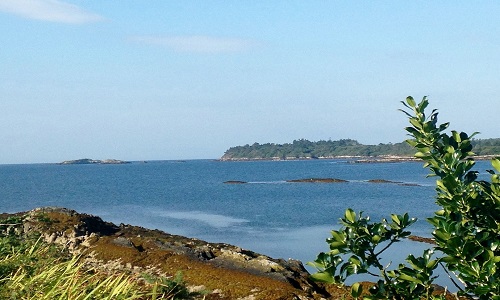 My base this week is the Parknasilla Resort close to Sneem, Co. Kerry. This is my second scouting trip in three weeks along Ireland's Ring of Kerry.
The Ring of Kerry, in Ireland's south-west, is the most scenic drive I know. In beautiful sunshine, like we have right now, nowhere can compare.
It takes you through more than a hundred miles of countryside in County Kerry. Along her peninsulas, calm bays, sandy beaches and wild Atlantic shores. Starting at the base of MacGillycuddy's Reeks (a mountain range with Ireland's highest mountain) in Killarney, your route brings you around the Iveragh Peninsula, through two of Ireland's prettiest towns—Kenmare and Sneem—and to the long sandy beaches and beautiful Atlantic at Waterville.
There are attractions and jaw-dropping lookout points along the way. You can take a boat to the steep, rocky Skellig Islands and hike to an ancient monastic settlement. Here, monks lived in tiny stone beehive huts, perched above sheer cliff faces battered by wild Atlantic storms. The island environment is so hostile that the monks stayed safe from attack for centuries.
Or you could take in a lunch of oysters and Guinness in a gourmet stop like Kenmare 25 minutes from here. Or spend an afternoon pottering around the home of Daniel O'Connell (an Irish patriot) after a long walk on the beaches and rocky headlands of Derrynane.
And here, far west on Kerry's peninsulas, you can stroll on the first tee at 7pm during the summer months and still play a full round of golf. Even now in September I was able to get in the 12 holes at the little course in Parknasilla with a 7pm tee time.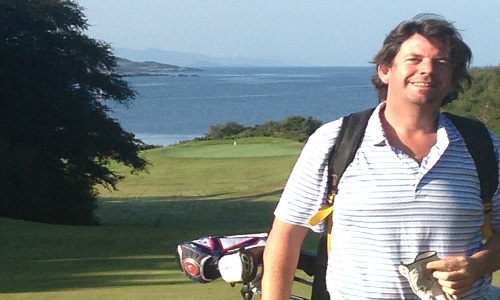 This luxury set me back 10 euro ($13).
For maybe the best golf course on the planet you have to travel further along the Ring of Kerry to Waterville.
This is also a great place for walking and biking. The more I travel overseas, the more special this part of the world is to me. It's a great location for a second home. Five years ago a budget of $500,000 didn't get you far here. Today, the vacation and second home market is particularly distressed. Makes sense, right? If you are under financial pressure, the first thing to go will be your vacation home. And there's a lack of buyers.
So today, on the Ring of Kerry, a budget of $130,000 puts you in the game. For a country cottage—renovated or dilapidated. For a new-build home in a little town of flower baskets and brightly-painted cottages. Or for a building lot with views of the Atlantic or tranquil bays.
Close by in Sneem I visited a little community of holiday homes. They listed for big bucks. Then the crash came. Now the bankers in control are getting ready for a fire sale. In Kenmare I visited three communities. Same story.
We have a strong opportunity. It's a buyer's market. It may be the final one, as the last of the best bargains from crisis-fueled fire sales are picked up by savvy investors.
As I predicted three years ago, three segments of Dublin's real estate market have rebounded spectacularly: condos in central locations, quality family homes, and established commercial leases. Dublin is hurtling at breakneck speed into another bubble.
I advised members of Real Estate Trend Alert to buy close to the technology and financial hubs in central Dublin. You could have bought a two-bedroom condo for 120,000 euro ($156,000)—that listed pre-crisis for 350,000 euro. In 2012 you would have generated 10% in annual income, which would have jumped to 11.5% last year. This condo would now sell for 180,000 euro ($233,000)…or more.
Don't worry—we can still buy for cents on the euro in scenic and more remote parts of this country. In fact, we're about to see an incredible fire sale that's been three years in the making.
During the boom, Ireland was dotted with luxury golf, hotel, resort, and residential properties. Investors bought homes in these communities. These homes came with tax breaks—a big draw for local investors. The homes were handed to the hotel for a period of time (typically 10 years) to be used as hotel accommodations. Many came with a guaranteed rental deal.
Hotels got into difficulty, rents weren't paid and it became a legal mess. Many of those issues have now been resolved. Once the vacation season ends in the coming weeks, many of these communities will be listed for sale. As soon as there's more certainty over the viability of these communities, there'll be a rush to sell them. These homes have no use for the investors now that the tax reliefs have expired.
It will be a great buying opportunity. I'm on the ground.
Members of Real Estate Trend Alert, stay tuned for my full report from the Ring of Kerry in your October issue. Right now I'm running the rule over the best opportunities I saw. My report will highlight the best opportunities and the best way to buy.
If you aren't a member of Real Estate Trend Alert you can join here.
Ronan McMahon
---
Sign up here for your free Pathfinder Alert e-letter, and we'll send you our $100,000 Report...showcasing 17 real estate opportunities for $100,000 – or Less.
We value your privacy.