Sunday, July 20, 2014
Dear Reader,
Nothing can beat a palm-fringed Caribbean beach, with powder sand and turquoise seas. It's the stuff dreams are made of.
When most folks see a beautiful beach their thoughts run to bathing suits, a comfortable lounger and a cool beer. But for Pathfinder, a beach needs to offer more than sun, sand and surf. It's got to have profit potential.
It's a potent mix: beautiful beaches where you can soak up the sun…and make some serious money. You could see strong capital growth, a steady stream of rental income, or a combination of both. You don't get that in every beach location. But when you do, you've hit the jackpot.
We've pinpointed this profit potential in a handful of beach locations. These are areas where you can seriously profit from beach real estate. They're places that aren't on the radar of Joe Public just yet. And when Joe Public finally sits up and starts to pay attention to them, prices will already have soared…
A Location with Excellent
Beach Real Estate Profit Potential
One Caribbean coast we can't rate highly enough comes with postcard-perfect views like this: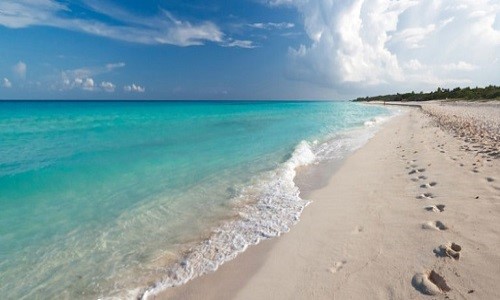 This Caribbean coast is easy to get to. It's packed with amenities. It's a dream location with some of the world's top beaches. It's jet-set chic, home to trendy bars and restaurants, hip stores and organic cafes.
The government plans to triple tourist numbers to this coast. But they don't want any old tourist. They're aiming for sophisticated, high-end travelers. Their work is already paying dividends. Tourist numbers and hotel occupancy both hit record numbers in 2013.
Rental demand is growing in this region. And we're already seeing very strong appreciation. In January 2011, a fellow reader bought a pre-construction condo here for $150,300. Today the developer has the same type of unit for sale, due for delivery in December, listed at $246,000.
On this Caribbean coast, you get the best of both worlds. It's the perfect vacation spot. It's already the top spot for a second home for Pathfinder readers……many have already made some strong profits from beach real estate.
But don't think you've missed out. We're continuously scouting this area and negotiating deals for our readers. In February, readers snapped up loft-style condos in the area with exclusive pre-release pricing from $141,500. Prices went retail to $181,500 a month later before selling out.
And we're working on three more deals right as we speak. With one, you could buy a luxury two-bed condo for less than $150,000. You won't pay that $150,000 in one chunk, of course; the condo comes with special financing. You can use the condo for personal vacations and rent it out to cover its costs and even make a profit.
This deal is just one of the exciting opportunities we'll bring you this November at the International Real Estate Investment Forum. We'll give you all the information you need on why this location is a hot spot for profit…show you the top deals on offer…and introduce you to the developers, attorneys and tax advisors who can make it happen.
And because we're hosting the Forum on this Caribbean coast, you can inspect the properties first-hand. You can see it, touch it and decide if it's right for you.
You'll hear from myself, Pathfinder colleague Ronan McMahon and our hand-picked team of experts. This coast is just one of a dozen or so different locations we'll cover at the Forum. We'll show you properties in up-and-coming markets, where owners are already seeing gains…gorgeous locales where owners earn 10% rental yields…and some amazing distressed-market deals in Europe.
We show you how, and where, to buy smart. You don't need mounds of cash to get in—often less than $20,000. Then you sit back while your investment not only increases in value, but pays for itself, too.
You could relax at your place overseas a couple of weeks a year, savor a funded vacation and eventually, make it your own luxurious retirement retreat, knowing that it's paid for…and paying you.
It's the first time in two years that we're hosting this event. We expect—given the pent-up demand for this program—that seats will fill up very fast. In fact, this event only opened for official registration last week and already half the seats are gone.
If you like the idea of quickly and easily grabbing a foothold in a market where yields are strong, where you can get in right now at below-market pricing, and where you can begin to grow and protect your portfolio overseas, there's no more efficient way to make it happen than to join us in Cancun this November.
I hope to see you there. If you'd like more details on what the Forum offers, go here. Or, if you'd prefer to reserve your place now, click here.
Margaret Summerfield
P.S. With the right intelligence and the right opportunities—both of which we'll give you in November—you can turn a modest investment into a windfall.
Not only can you position yourself to profit. But you can enjoy your investment, too. We'll show you how to do that…and point you to the little pockets on the planet where you can make that happen.
You can register for the Forum here.
---
Sign up here for your free Pathfinder Alert e-letter, and we'll send you our $100,000 Report...showcasing 17 real estate opportunities for $100,000 – or Less.
We value your privacy.