Sunday, April 19, 2015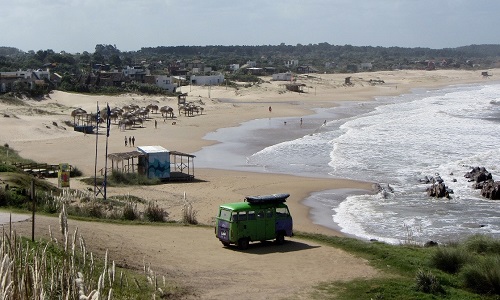 This coast is a sleeping giant…
Dear Reader,
The surf's up on one section of the beach in the little town of La Pedrera, Uruguay. Groups paddle out to ride the crests of fast-moving waves. Passing the headland, we leave the surfers behind. This side of the beach is calmer. Families relax in the summer sun, snacking and swimming.
The town is busier than I expected. Along with the surfers, I've met backpackers from Europe and Latin America, eager to explore this unpolished coast. My hotel is full of guests, here for a wedding. But the vibe is still slow and sleepy.
La Pedrera is a little short on amenities. It's got beautiful beaches and buckets of charm. But there's no bank, no mall, and no movie theater. You won't see condo blocks, fast food outlets, or chain hotels. It's got some small boutique hotels, a dozen or so restaurants, cafes, and a grocery store.
La Paloma is a neighboring town about five miles down the road. It's bigger. It boasts a bank, a bus terminal, and a wider choice of eateries. It's famous for its lighthouse which dates back to 1874. But, like La Pedrera, it's a tranquil spot.
Both these beach towns are in the province of Rocha. They're not bolt holes for celebrities and movie stars like Punta del Este or Jose Ignacio. They attract a younger crowd who come to surf and chill and folks who are discreetly wealthy, seeking privacy and seclusion.
The seaboard in Rocha is untamed and natural. Little beach towns dot the coast. Waves break on endless soft sand, backed by dunes. This coast is undeveloped. It's also undervalued. But that's set to change…
I wrote yesterday about the Path of Progress that's making its way toward this coast from Punta del Este. That should open this coast up to tourism and development. But right now it's still very affordable. I mentioned a third of an acre lot in trendy Jose Ignacio yesterday, listed at $150,000.
Now, let's see what you'd pay for a lot close to La Paloma.
La Serena Golf is a small residential community a couple of miles from La Paloma. It's surrounded by serene countryside—fields and farms, forests and lakes. It's less than a mile from a huge national park that's home to otters, capybaras, and flamingos.
Best of all, it's close to a beautiful beach. Owners in the community have beach access.
La Serena is all about relaxed country living. Plans call for a clubhouse, tennis courts, and a nine-hole golf course (a couple of the holes are ready for play). The electricity supply in phase one is heading for completion. The landscape is soft, pasture-covered, slopes that weave around lakes. Half the land will stay as green space.
Lots in La Serena are generously sized from half an acre up. A half-acre will set you back $34,000. Lots with an ocean view run from $42,000. Compare that to the $150,000 for the lot near Jose Ignacio and you'll see the value you're getting in La Serena.
You can spread your payments on your lot, too. Pay a third of the purchase price as a down payment and you can then take up to five years to pay off the balance, interest-free.
I visited La Serena on this trip with the developer. This is his second project in the area. The first features in a coffee table book on unique luxury homes in the region.
We checked out the first finished home in La Serena:
It's open plan and surprisingly spacious for only 1,200 square feet with great views. It's the perfect second home or vacation getaway. Building a home like this would cost around $120 per square foot. 
Prices are still low in La Serena Golf. The developer plans to raise prices once the electricity installation in phase one is finished. That's a game changer for this project. Several owners are waiting for the electricity to get hooked up to start construction on their homes. With more houses built and owners spending more time here, La Serena will feel like a proper community.
Half-acre sites at La Serena will cost you $34,000. My colleague, Ronan McMahon, has negotiated a special deal for members of his Real Estate Trend Alert who can save 25% and get in from $25,000.
This is a great deal and just one of those Ronan has on offer to RETA members.
You can find out how to join that special group here.
Margaret Summerfield
---
Sign up here for your free Pathfinder Alert e-letter, and we'll send you our $100,000 Report...showcasing 17 real estate opportunities for $100,000 – or Less.
We value your privacy.