Wednesday, December 11, 2013
Dear Reader,
As I write, it's a balmy 79F in Placencia, Belize. The sky's a wonderful shade of blue and the Caribbean Sea warm and inviting. You could be sitting on your verandah with a view like this: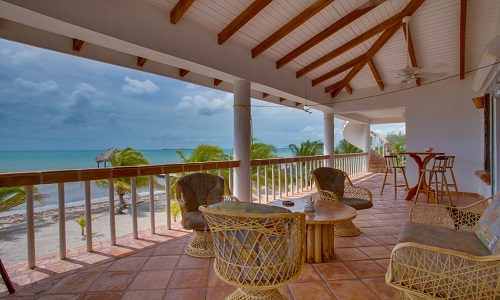 The only thing missing is you and a couple of cool Belikin beers…
But before I tell you about the beach house in that photo, let's talk a little about why you'll like Placencia.
Placencia's a small beach town in southern Belize. The village sits on the tip of the 16-mile-long Placencia Peninsula. It's a quiet haven of white-sand beaches, bright-colored stores and luxury boutique hotels.
For many years, it was tricky to get to Placencia. The road from Belize City was only paved in 2010. But Placencia still attracted tourists. They came for the world-class fishing, the beaches and the awesome snorkeling and diving. They loved the "no news, no shoes" lifestyle they found – and many decided to put down roots in the village.
Placencia's an easy destination because it's English-speaking. You can relax over dinner instead of struggling with the menu, call a cab when you need one, get yourself hooked up to the Internet. You won't need a dictionary or a translator. You can cut out learning another language, and skip straight to socializing and making new friends.
Placencia started as a humble fishing village. And although it's retained its sleepy Caribbean charm, it's got lots more amenities these days. You'll love eating at Rumfish y Vino, where you can dine on conch ceviche or pasta with lobster. After your meal, wander next door to Tutti Frutti for a cup of their handmade gelato – in flavors like coconut, cappuccino and caramel. Placencia has 50 restaurants, bars and cafes, from rustic home-style cafes to upscale bistros.
Placencia will suit if you want a Caribbean location with white-sand beaches. It will appeal if you enjoy a friendly village atmosphere, where people stop and chat and get to know each other. There's no rush, no stress, no hurry – just endless sunny days at the beach…
And this house gives you the best of this beachside location. It's in a highly desirable neighborhood. It's a three-bed two-bath home with a fenced-in landscaped yard and garage. It's got a laundry room, a fully-equipped kitchen and a spacious open-plan living area: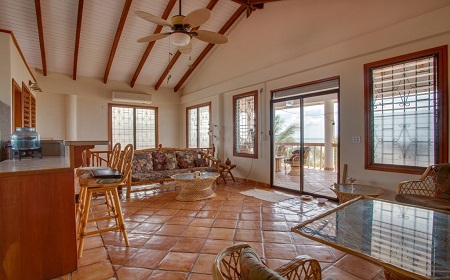 You've got the covered verandah in the photo above plus a couple more patios. The upstairs patio boasts sea views. The downstairs patio features a plunge pool and social area: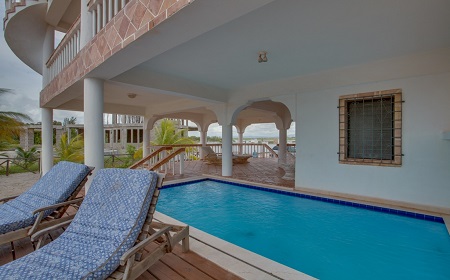 The asking price for the house is $474,900. That's good value compared to some other Caribbean locations. In St. Kitts, you could pay almost twice that amount just for a beach lot.
If you'd like more details, you can contact local real estate agent Boris Mannsfeld here.
Margaret Summerfield
---
Sign up here for your free Pathfinder Alert e-letter, and we'll send you our $100,000 Report...showcasing 17 real estate opportunities for $100,000 – or Less.
We value your privacy.